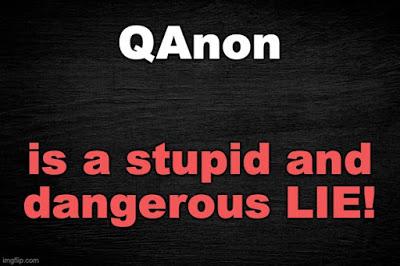 The QAnon conspiracy continues to grow. These are the people who believe that a cabal of Democrats and Hollywood people are stealing children for pedophilia and cannibalism. They have no proof of this, but that doesn't matter to them. They believe it because they want to believe it.
But while they claim to be trying to protect children, their actions are actually harming efforts to protect abused children.
The following is just part of an excellent article at CNN.com:
Child welfare organizations for months have felt the full weight of the coronavirus pandemic, navigating concerns about unreported abuse and ensuring their resources are available to at-risk children. 
But now, deeper into the outbreak, a new challenge is emerging that's complicating their critical outreach efforts: the QAnon conspiracy theory. 
The most basic QAnon belief -- entirely divorced from reality -- casts President Donald Trump as the hero in a fight against the "deep state" and a sinister cabal of Democratic politicians and celebrities who abuse children. It features an anonymous government insider called "Q" who purportedly shares secret information about that fight via cryptic online posts.
And it's the behavior of those who follow the conspiracy theory -- their supposed efforts to help abused children -- that's putting an increasing strain on the resources of actual child welfare groups. 
The problem has become so severe that one such organization, Childhelp, says it had to set up an auto-response message on its crisis hotline to filter out QAnon callers after their name appeared in a QAnon meme. 
"If you have a hotline counselor who is taking time to speak to someone discussing a debunked conspiracy theory, there may be a child holding on the next line," Daphne Young, chief communications officer for Childhelp, told CNN.
The rise of QAnon -- and its movement off the internet and onto the hotlines of child welfare organizations -- marks just the latest wrinkle in the effort to protect at-risk children during the pandemic. 
Figures provided to CNN from states across the country in the early months of the outbreak showed considerable drops in child abuse reports as social distancing measures kept kids out of school. While that would usually be welcome news, experts say the decline might really mean more cases are going unnoticed.
As a result, welfare groups like Childhelp have shouldered the burden of making themselves increasingly available for assistance, especially given the muted response from the US Department of Education.
But now the QAnon conspiracy theory is further straining their efforts, and Young says the damage is far more corrosive than people realize. 
Beyond the calls to their hotline, Young explains that QAnon does "psychic damage to our work, which is the crying wolf phenomenon."
"If you get people constantly crying about abuse day in and day out on social media that is not real -- that is, everybody in Hollywood is part of a mass cabal drinking the blood of children, which is literally one of the conspiracy theories, drinking from their adrenal glands to stay young -- this madness drowns out a child asking for help, a parent that needs resources," she said.
"It drowns out anyone that's a survivor who is trying to get in touch with us, and it's not only 'cries wolf,' but I think that it also gives -- in a strange way -- it gives predators a little protection, because if everybody's crying abuse, then maybe the guy down the street didn't do it either."
That message has been echoed by other child welfare groups, which have become increasingly vocal with concerns that QAnon supporters are blurring the difference between their conspiracy theories and the work of real welfare and advocacy organizations. 
The KidSafe Foundation, which aims to protect children from sexual abuse and trauma, now boasts a forceful statement on its website deriding QAnon promoters as "parasites" trying to "hijack the good names of organizations leading the fight" against real abuse.
"To grow their footprint, gain credibility, and spread misinformation, they associate their message of hate and bigotry with well-known, well-regarded organizations -- specifically those working to end child sexual abuse and sex trafficking. That strategy threatens to diminish our identities, tarnish our reputations and harm our good works," the statement says. 
Cherie Benjoseph, the chief program officer and co-founder of the foundation, separately told CNN that the rise of QAnon has become especially problematic because people are already "reluctant enough to accept the reality of child sexual abuse without being driven away by QAnon's despicable presence."