It's finally Spring and as the temperature slowly heats up (and more people get vaccinated), we find ourselves more than ready to venture out again. Of course, that means putting away our "home wear" and getting back to our fashionable side. From what we're seeing, many of you are ready to bring fashion back into your lives. This season, we're loving all the fashion offerings from the Carlisle Collection Spring 2021 line. We had the opportunity to sit down with Carlisle's Creative Director, Jose Solis, on the very chic women's fashion collection.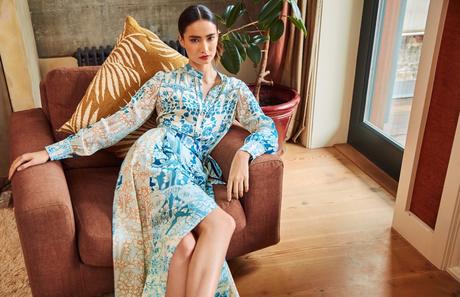 What was the inspiration/theme for the Carlisle Collection 2021 line?
My inspiration was the photography of Slim Aarons, and the amazing socialites and celebrities he photographed. Strong and beautiful women such as CZ Guest, Joan Collins, Dee Hartford, Slim Keith, Babe Paley, etc.. I loved the colors and patterns in his photography and the amazing style those women had.

What are your stand-out/favorite pieces from this collection?
It's hard to choose because I feel each piece is a piece of the pie to complete the collection. If I were to choose, I love the embroidered organza Giselle blouse because it mixes the luxury of the embroidery on silk organza with a sporty style. I also love the printed Priscilla blouse and maxi skirt. Sometimes multi-color prints can turn out a little too over the top, but the colors in this print effortlessly blend from one color to the next.
I also love the wide-legged Deck and Chiller pants. Slim legs are still happening, but I loved the exaggerated wider legs to give a fresh proportion to jackets and tops.

How do you want women to feel when wearing the clothes from this collection?
I want women to feel confident and beautiful in ANY clothes they wear. Of course, I prefer they wear Carlisle! 🙂
However, I also want them to feel comfortable. That's why we pay so much attention to how our clothes fit. We make sure comfort is not sacrificed for style.

What trends are highlighted in the Carlisle Collection Spring 2021 line?
One of the trends I already mentioned is the wider leg pants. They look great when worn with cropped jackets or slimmer tops. It's best to stay more fitted on top when wearing a wider leg pant. I also love the dramatic sleeves of the Scenario blouse, the Tea Rose Cardigan, the Giselle blouse, and the Flash blouse. Those types of sleeves are better worn with slim bottoms so the focal point is the sleeve. Lastly, I'm loving mixing prints. When done right, it can look very modern and confident as well as a way of self-expression.

How important or is it important to go with the trends?
I try not to follow trends as much as I try to create what looks fresh to the eye. I try to design clothes that have longevity and that you can pull it out of your closet years from now and it still looks relevant. When something is too trendy, it will only last a season or two before it doesn't feel fresh anymore. Overall, I hope a woman has a sense of her own style and dresses based on her own personal style and lifestyle needs. That to me is more modern than a trend.

What do you want women/customers to know about this collection?
Considering the year we all went through with everybody being home, we tried to address how customers would dress during these difficult times. However, we also wanted to provide a collection that looked beyond that. A collection that looked toward the future when we hopefully would start getting back to some sense of what our lives were before the past year. Fortunately, there's a light at the end of the tunnel.
We couldn't agree more with that last statement. We're ready for that light at the end of the pandemic tunnel; we're ready to say goodbye to our yoga pants and hello to some chic wide-leg stunners like the ones in the Carlisle Collection Spring 2021. Are you ready to bring fashion back into your life and closet? Leave a comment with what fashion trend you're most looking forward to wearing.