You've heard the saying, when life give you lemons, blah blah blah… Well my daughter is home from college and thought she had a summer job lined up but lo and behold it fell through at the last minute.  Ever try finding a job at the last minute – along with a million other college kids trying to get summer work?  Ughhh.  Anyhow, this morning she was excited to go on an interview for a catering job.  Upon her arrival the lady interviewing says she loves her personality but she thinks my daughter is "small" and will not be able to lift the food trays… plus she was looking to hire a young man.
*blink blink* did she not see her name on her application and "female" before setting up the interview?  Anyhow, one more let down – she came home deflated.  Obviously upset she went to her room for a bit.  When she came out she was wearing these glasses, lol.  I said, "Um, still upset?"  She replies with a smile, "You can't be upset when you are wearing a cool mustache."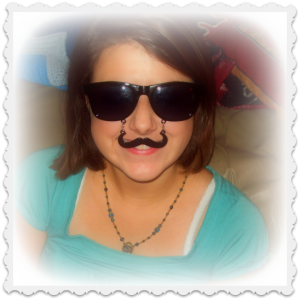 And such is life.
  You experience the pain and let it go, you put on a positive attitude, and you move forward.