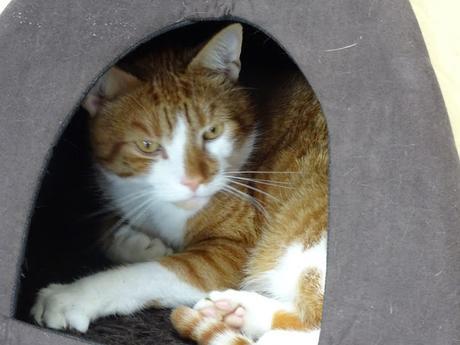 As snug as a bug in a rug .... or a cat in a wigwam!!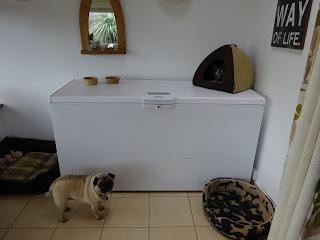 Ginger gets on great with all the dogs, as you have seen in so many of the photos I put on here, but every now and then a cat has to be alone and this is where the freezer is a godsend.  None of the dogs, not even little bouncy Charley when we had her, can get on here.  So when it's time for Ginger to have some 'me time' he jumps up on the freezer and cuddles on down in his pussy cat wigwam.
His food dishes as you can see are also up here which means he has access to dry food at all times and is able to eat his tunafish breakfast in peace with no dogs clamouring to lick the bowl clean for him.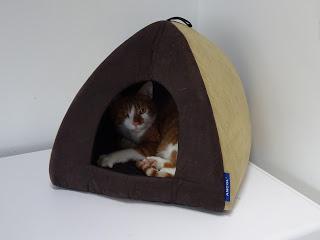 I don't usually disturb him at all when he's in the wigwam, and as you can see from the photos just getting up close with the camera meant he dug his claws in as if to say 'leave me alone' ... so I did and he was soon back to pussycat snoring  :-)



Reverse Advent - Day 22
For today's gift I clicked on Oxfam Unwrapped and ordered two chickens to be sent to a family that will make good use of them.  They come with a lesson on how to raise, look after and make the best possible use of them to both feed their family and potentially make them a bit of money.
There's a sale on the website at the moment, lots of these gifts that make a difference are half price, with the other half being paid for by Oxfam Partners.  If you have yet to buy a present for someone and you have no idea what to get them this would be a lovely idea.  You can order an E.card to be sent to the recipient so they will know all about their unusual but worthwhile Christmas present and that it was bought by you.
Visit here - Oxfam Unwrapped
Sue xx