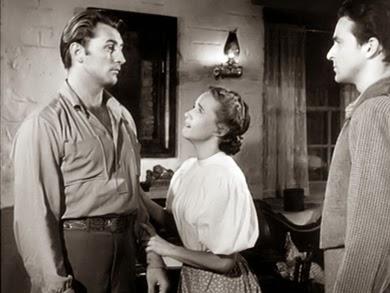 Raoul Walsh's Pursued (1947) presages the '50s trend in psychological Westerns, swapping the genre's simple morality for tortured introspection. This unexpected complexity and amazing mise-en-scene overcome its kooky plotting.
Orphaned Jeb Rand (Robert Mitchum) is adopted by rancher Mrs. Callum (Judith Anderson). He befriends her son Adam (John Rodney) and daughter Thor (Theresa Wright), relatively happy but tormented by childhood nightmares. Jeb serves in the Spanish-American War and returns a hero, embittering Adam. Several violent confrontations leave Jeb a pariah, with Mrs. Callum and Thor turning their backs on him. Not to mention Grant Callum (Dean Jagger), a solicitor with a lifelong grudge against Jeb.
Pursued often resembles a film noir more than traditional Western. Walsh's frayed character dynamics resemble Anthony Mann's flicks, while Jeb's traumatic backstory and fragmented flashbacks inspired many spaghetti westerns. Like a noir hero, Jeb's cornered by misunderstandings and scheming villains: Grant uses both legal power and personal persuasion to trap Jeb. Jeb certainly isn't an angel, with a violent streak that leads even Thor to doubt his righteousness. If Pursued has inevitable nods to convention, from the convenient ending to Max Steiner's obnoxious score, they're forgivable.
If Pursued has any flaws, it's the spotty story. Niven Busch's script lurches from inspired ideas to abject silliness. Busch provides a few neat twists: while Jeb's background scarcely counts as a mystery, a shocking character revelation redeems the finale. The leads are less explicable: Jeb often seems frustratingly passive, if not a dope; his pursuing Thor after she declares her hatred seems absurd. Yet Thor fares even worse, veering from love interest to scheming villainess and back again without reason.
Walsh shows a firm directorial hand, providing crisp action and effective pacing. Yet top honors must go to cinematographer James Wong Howe. Pursued is a master class in photography: both moody shadows and amazing depth of field, from the deep-focus interiors to some remarkable outdoor shots. There's an incredible scene where Jed rides through the desert, stalked by an assassin in the distance. Only John Alton's collaborations with Anthony Mann compare within the genre.
Robert Mitchum remders Jeb's conflicted character with charm and grit. Theresa Wright struggles with a role not written to her strengths. Judith Anderson (Rebecca) easily steals the show, conveying torment and twisted love without descending into caricature. Dean Jagger (Elmer Gantry), cast against type, smartly underplays the menacing Callum; John Rodney, in contrast, is too obviously sneering. Harry Carey Jr. appears briefly as a pathetic fall guy.
Pursued is a flawed but effective Western. Its rough edges don't seriously detract from a remarkable movie.