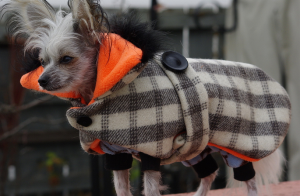 Photo Credit: Yolanda Annrkiszt
That's a gorgeous Burberry coat you're wearing, and even better because it's waterproof. Where are you going, to the spa? Ah, just the gym. Well they'll certainly appreciate your matching plaid bow, it just completes the ensemble.
Oh, and it's your birthday? So what kind of cake did you order, liver & bacon or turkey & stuffing? I hope you get an edible card thrown in, you lucky dog.
It's a scene that wouldn't be out of place in New York or Los Angeles, but more than ever pets in London and across the United Kingdom are being lavished with expensive treatments, accessories and gourmet diets.
From specialist doggie bakeries to natural, raw pet food makers who do home deliveries, British dogs have never had it so good.
Pooches were even in on the 'pop-up' trend, when for 10 days in September, dogs-in-the-know could sniff out the Ciao Chow Canine Bakery in Soho, the central London enclave known more for its wild nightlife than its dedication to delicious dog treats. By all accounts, the Ciao Chow was a hit, so no doubt imitators will pop up in its place.
In London alone, there are countless bakeries catering exclusively to pets, but it's not just the capital city that's in on the action: at the other end of the country, in rural Yorkshire, the Doggie Patisserie makes seasonal cookies, cupcakes and "everything your dog needs for their birthday party celebrations!"
Then there are the custom clothing makers, boutiques selling socks to protect paws from ice and snow, doggie gift boxes and items that are loved by both pet and owner, such as the Wag 'N Go Dog Travel Bag, which contains food storage contains, a travel mat and more. If it can make people or dogs cuter, happier, healthier or just more original, it's out there – and it has a serious customer base.
The British and their dogs have always gone together like London and fog: they're inseparable. Most pubs and even some restaurants and cafes are more than happy to host well-behaved dogs. Hotels and B&Bs will accommodate potty-trained pooches. Canines of all shapes and sizes are as common on city sidewalks, parks, beaches and country lanes as the famous red phone booths and double-decker buses.
But such extravagant, American-style pup pampering is a phenomenon that's been growing for a few years, not least since a 32-year-old woman reportedly spent more than £20,000 – or about $32,000 – for a "dog wedding" in 2011. The 'bride,' a Yorkshire Terrier, apparently wore a £1000 ($1600) dress and jewelry worth more than £400 ($640). No word on whether the couple are still together.
For a less lavish affair, there are pet weddings in Northamptonshire, a county north of London, for "just £150." That's about $240 to walk your dog over a bridge, read some vows for it and have someone pronounce it married. Food, clothing, photos and anything else costs extra, of course.
For the same amount, discerning dogs can be treated to a "Luxury Pet Spa Day Experience" at none other than Harrod's, London's most exclusive department store.
One word to the wise, though: beware if you're thinking of dressing your dog in the classic Burberry raincoat. Britain's famous (and famously pricy) trench coat designer stopped making dog clothing in 2009, so anything you might find new will be a fake. And if you're going to spend those kind of bucks to keep your pup dry, don't you want the best?
~ Written by Laura Potts. Laura is a writer, editor and American transplanted to Britain, where Labrador Retrievers have inexplicably stumpy legs (by comparison to their lithe Yank cousins) but are still just as gorgeous. She lives with her family and Caber, the height-challenged black Lab, in the English countryside.
Tags: dog pampering