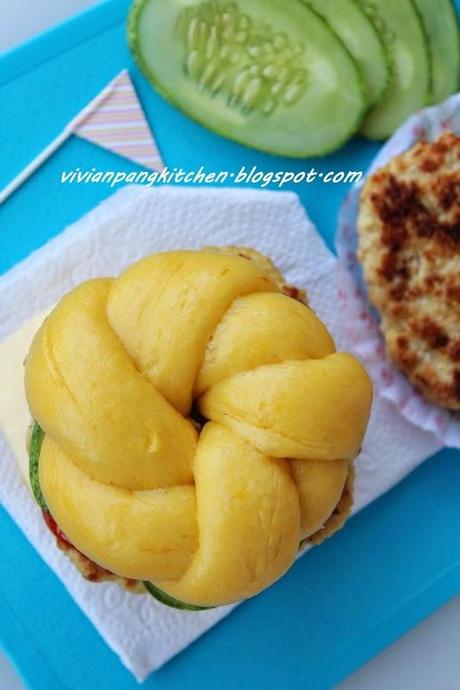 I prefer pumpkin steamed bun instead plain one. Since my kids dislike having pumpkin on its own, adding inside steamed bun is a great way to get them eat. They like burger therefore I prepare these flower buns to go with homemade chicken patties. With this recipe you can shape them into mantou or any other shapes you prefer.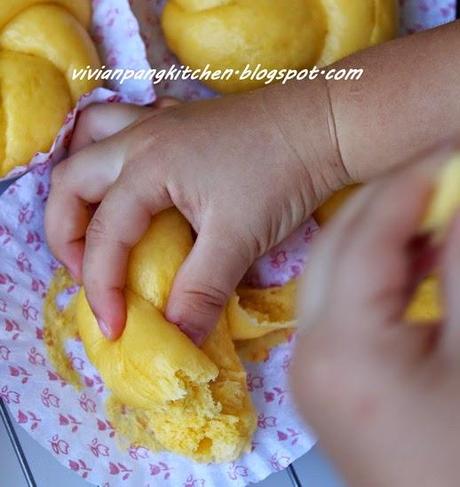 Hungry baby... can't wait!
Adapted from

Copycake Kitchen

with changes
Pumpkin Steamed Buns (
南瓜包子
)
Yield 12 pieces; 65g each
Ingredients :
200g pumpkin (steamed and mashed)
80g castor sugar
5g instant yeast (1¼teaspoon)
100-110g water
450g pao flour (I used all-purpose)
½ teaspoon baking powder
½ teaspoon double action baking powder
22g shortening (I used corn oil)
Method:
1. In a big mixing bowl add in pumpkin puree, sugar, yeast and about half of the water. Stir to combine.
2. Add in pao flour, both baking powder and gradually add in the remaining of water. Mix with chopsticks until mixture resembles coarse meal.
3. Hands on and knead till form into dough. Add in oil and continue knead till smooth. Cover and leave aside for about 1 hour.
4. Divide into 65g each and shape into ball, set aside to rest for 15 minutes. Shape into flower as shown in the pictures.
5. Put the shaped buns inside steamer (without heat) to rest for 30-45 minutes (or until the dough is springy to touch).
6. Start steaming from cold water with medium heat. Once the water boiled, steam further 8 minutes.
7. Once the steaming time is over, off the heat. Leave the steamed buns inside the steamer for few minutes before open the lid.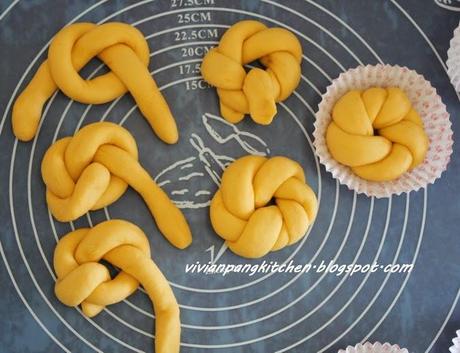 ######################################################
For those who resident in Kuching area interested to place order, please inbox me at 
[email protected]