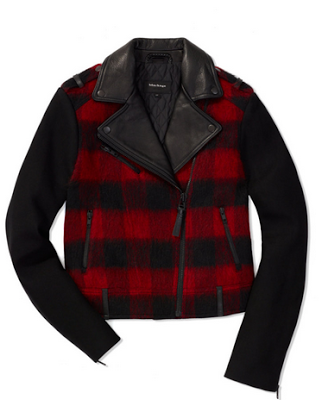 Now that I got your attention....lets chat a bit more about what to wear while you're sipping on that latte you've got there
You may have noticed my post from yesterday in which I opened up the discussion of dressing for fall, or if you follow me on Pinterest you can check out my all things fall board. Well in the spirit of all things cuddly and cozy I wanted to continue the discussion with a nice fall shopping post.
What is it about October that makes me want to throw on multiple layers, cute suede loafers, a chunky knit scarf, and my trusty denim jacket and head over to Starbucks for a Pumpkin Spice latte? 
In case you haven't already pick up on it, I am obsessed with literally everything pumpkin spiced, flavored, sprinkled and even colored. 

Which leads me to a very important question, have you visited any good pumpkin patches lately?

I personally enjoy a good pumpkin patch, even a cute apple orchid will satisfy my fall photo shoot cravings.  Last year I visited one and brought along my dog. Among all the parents pulling their plaid and corduroy clad children in wagons through the picturesque farm there I was; with Pepper. She was pulling me through in an attempt to eat/squash every pumpkin in site, bark relentlessly at the farming equipment and scare away the innocent children.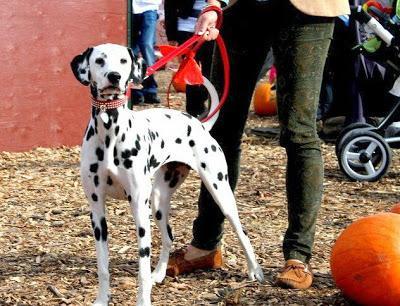 That's me in the background (obviously I wasn't the focal point of that photo) wearing cute paisley cords from Free People and suede moccasins (actually they are UGG slippers but I wear them in public). Last year my fall wardrobe revolved around good pants (colored skinny jeans, silk dress pants) and blazers. This year I think our fall "game changers" are a bit different. 
The way I see it, three essential items can get your wardrobe ready for fall this year. Those items are jackets (moto, leather, denim; not necessarily blazers), knit sweaters and fall/winter appropriate shoes. It's been my experience that its pretty damn easy to incorporate theses three things with the other items in your closet, jeans, shirts, dress pants, skirts (just add tights), et voila you have a killer fall wardrobe. 

Shopping information for every item included before the images

1. Jackets: 
Scotch and Soda Denim Plus Wool Jacket, 
Mackage Moto with leather, 
Scotch and Soda Jacquard Jacket, 
Alice + Olivia tweed jacket, Wilfred contrast faux leather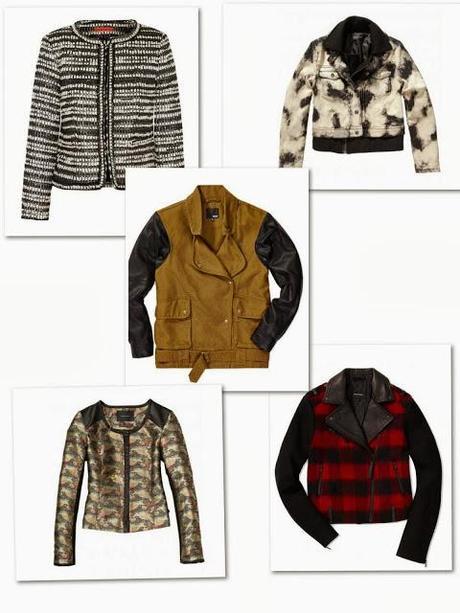 Shoes:
Gianvito Rossi Suede Pump, 
Charlotte Olympia Sleeping Kitty Velvet Slippers, 
Zara Leather Ankle Boot With Buckles, 
Stuart Weitzman Suede Tassel Loafers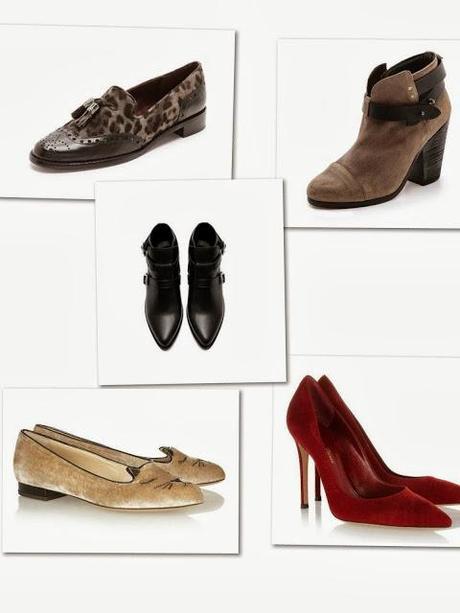 Sweaters: 
Theory Textured Sweater, 
J. Crew Crystal Embellished Knitted Top, 
Anthropologie Cardigan, 
Marcus Lupfer Sweater