I love popcorn. Period. I even love movie popcorn with that awful butter. I love caramel corn and popcorn drizzled with white and dark chocolate. I even made popcorn once with a bourbon caramel drizzle. But the truth is that even though some of those sinful creations are FANTASTIC, the real nitty gritty is that I just don't often take the time to make coatings that need a lot of monitoring or expensive thermometer gadgets to help me accomplish the task. In fact I love this simple recipe so much that when I do make popcorn I'm happy just to a big bowl of this next to me. The original recipe from an old cookbook of mine called it Sugar and Spice Popcorn but really it is all about spices we associate with pumpkin pie so I long ago started calling it Pumpkin Spice Popcorn but I promise NO PUMPKIN WAS SMUSHED for these kernels!
Isn't this corn popper cute? I bought it for my daughter Lauren for Christmas one year and then I kept finding excuses to keep it. Popcorn is so easy to make in it and the flavor wins hands down over the pre-packaged stuff. I finally broke down and bought my own from Amazon and gave Lauren her present; it's the only way she makes popcorn too!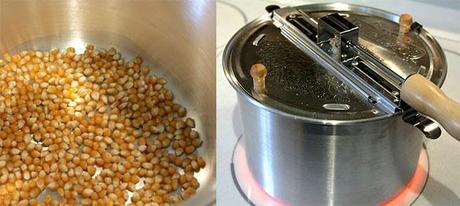 I first published this post several years ago but forgot I had so when I was eating some of this the other day and bird watching (OK, one little bird…but it is a start) I realized I had to share. Or in this case share again.
Even though our neighborhood is new and devoid of anything but some small trees, I live close to open land so we get a fair amount of birds. I tried regular bird feed without much success; guess they are being picky so hoping some sunflower seeds will result in more activity during the winter and I'll have a chance to take some photos. Next time? Me, my camera and some popcorn. Perfect.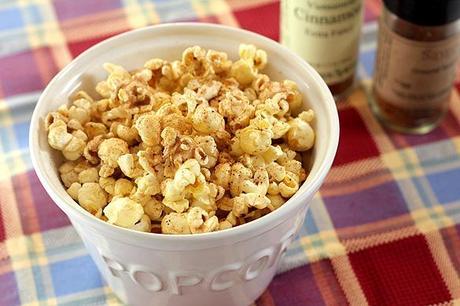 Although popcorn that is not coated with a sugary confecction is so often mixed with more savory ingredients, this combination of butter with cinnamon, sugar, nutmeg and ginger is so good and so easy; our entire family has been hooked for over two decades and I see no decline in our love happening anytime soon.
So let's pass the napkins and start snacking. Bet you'll find it addictive too!


Pumpkin Spice Popcorn
Prep Time: 5 minutes
Cook Time: 10 minutes
Yield: Serves 4-6
Add some sugar, cinnamon and nutmeg to your popcorn for a real treat.
Ingredients
8 cups of popped corn
1/3 cup butter
3 Tbsp sugar
1/4 tsp ground cinnamon
1/4 tsp ground nutmeg
Pinch of ground ginger
Preparation
Put popped corn into large bowl with enough room to mix ingredients.
Melt butter and add sugar, cinnamon, nutmeg and ginger.
Stir until sugar is dissolved. Drizzle over popcorn and toss until well coated.
2.6
http://www.creative-culinary.com/pumpkin-spice-popcorn/
This recipe brought to you by Creative Culinary | A Food and Cocktail Blog | Website: www.creative-culinary.com