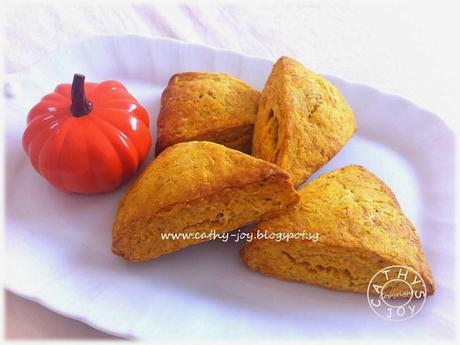 Pumpkin Scones 
(recipe adapted & modify slightly from joyofbaking

)

  
Ingredients:
130

g plain flour
35g light brown sugar
1/2 tsp baking powder
1/4 tsp baking soda
1/8 tsp salt
60g Liv cold unsalted butter

, cut into pieces
100g Libby's pumpkin puree
1 tsp rum
Method:
1.
In a large bowl, whisk together flour, sugar, baking powder, soda & salt. Blend butter into the flour mixture till it resembles coarse crumbs. In a separate bowl mix together pumpkin puree & rum. Add the pumpkin mixture to the flour mixture. Mix just until the dough comes together.
2. Transfer to a lightly floured surface & knead dough gently to about 4cm thick. Cut into 6 wedges.
3. Bake in a preheated oven @ 180C for 20mins.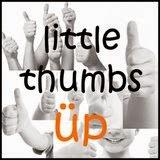 This post is linked to the event Little Thumbs Up (Oct 2014 Event: PUMPKIN) organised by Zoe (Bake for Happy Kids) and Mui Mui (My Little Favourite DIY) and hosted by Eileen (Eileen's Diary)
I'm also submitting this post to 
"My Treasured Recipes #3 - Taste of Autumn (Oct/Nov 2014)" hosted by Miss B of Everybody Eats Well in Flanders and co-hosted by Charmaine of Mimi Bakery House.