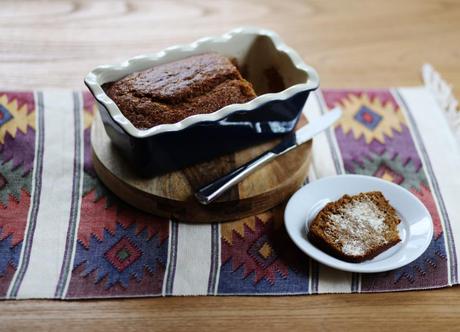 These mornings, when my little ones are at school and the house is still and quiet, I have been enjoying the calm that comes with Nina Simone radio and baking.  In some ways, I believe it is just fall.  This time of year feels like the right time to make quick-bread's, muffins, cookies.  Pumpkin-y, maple-y, porter-y and chocolate things.  And as much as I love having one or both of my sidekicks to help measure, mix, scoop, or pour, I'm loving this solitary kitchen gig.  For the first time in a long, long while, it's as if I can hear myself again.  It's a wonderful feeling.
I was 31 and had just tumbled so gratefully into my second trimester of pregnancy with Theo.  Or at that time, my little Buddha.  We lived in another place then, just a few blocks off the park where I walked almost daily and where Eric and I gathered our most cherished family and friends to say, "I do".  We were living in the downstairs apartment of a duplex we purchased; a place we thought at the time we'd be at for many, many years.  A place more than one hundred years old.  A place I cherished sitting in the quiet, trying to listen to its many decades of stories by way of creaks and a comforting and slightly chilling feeling that places that old embody.  I'd wonder who walked on those floors, who's hands pushed those heavy windows open.  Who planted the trees and tended to the earth.  I'd make tea and rest my hand on my budding belly bump and imagine tearing down all of the interior walls, upstairs and downstairs.  One big blank canvas of old, stunning brick.  We thought our baby and someday, babies, would run around all over that old house.
Anyway, I stray.  
Pregnant with Theo and craving pumpkin pie.  The autumn that he grew in my belly, I baked five pumpkin pies over the course of about six weeks and ate them all.  I baked them in my blue Emile Henry pie dish, a wedding gift, and ate them out of the same dish at all hours of the day and night.  I am not one hundred percent positive of this, but I don't believe I liked pumpkin pie at all until I was growing a baby.  And then I had to have pumpkin pie as if the healthy growth of this child depended on it.
Nowadays, my kiddos seem to be a bit afraid of pumpkin pie, and I don't need it like I did then.  I never have.  In fact, it's probably been at least two years since I last baked a pumpkin pie.  But we all love pumpkin bread.  I began making this recipe the fall after I had Theo.  And if my memory serves me well, it's the first taste of pumpkin he had outside of the womb.  To this day he still loves it just as much as he did that first time.  Making a loaf and lingering around the kitchen as the smell of baking pumpkin, rich with dark spices, spills out from the oven feels like a sweet, blessed, nurturing reminder of all that was and is.  Like most autumnal things, a warm slice of this bread with a schmear of soft butter, leaves you feeling full and warm and remembering, looking forward to more.
Pumpkin (Quick) Bread
makes one 9-inch loaf 
Preheat oven to 350 degrees F.  Butter or coat with a non-stick baking spray a 9-inch loaf pan.
3/4 cup light brown sugar2 large eggs1 cup fresh or canned unsweetened pumpkin puree1/3 cup of milk1 tsp. pure vanilla extract6 tbsp. unsalted butter, melted
1 1/2 cups all-purpose flour1 1/2 tsp. cinnamon1/2 tsp. ground nutmeg1/2 tsp. ground cloves1 tsp. baking soda1 tsp. salt1/4 tsp. baking powder
1-2 tbsp. coarse sugar such as Demerara for sprinkling on top
In a large bowl, combine sugar through butter.  Stir to combine.  Add flour through baking powder.  Stir to combine.  Pour batter into prepared loaf pan and sprinkle the top with sugar.  Bake for about 50 minutes - 1 hour, or until a toothpick inserted in the center comes out clean.  Let loaf cool in the pan for about 10 minutes and then turn out onto a rack to cool.