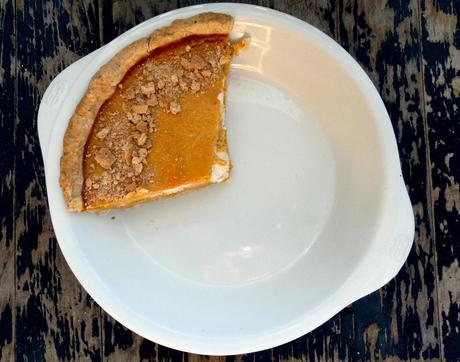 The remains of the pumpkin cheesecake pie An older man had fashioned leg warmers out of a pair of socks. They were the type of socks your father wears--white rimmed tubes. Apparently, he'd taken scissors and cut off the feets and then worked the tubes up around his legs.


He looked dignified, handsome even, except for the odd wrappings around his shins.


I sat, sipping on a cup of coffee and reading

Safekeeping

(a book I'd recommend to almost anyone), and he occasionally looked up from his papers to stare back at me.


And so we exchanged glances for the next hour. I would read a few pages, look up, and then wait for him to do the same.




When Ryan and I left, I walked by his table and wanted to bump his shoulder. Perhaps, he would ask us to sit down, and then he'd explain why he wore white socks around his legs. A physical and emotional connection with a man I'd  shared the last hour with.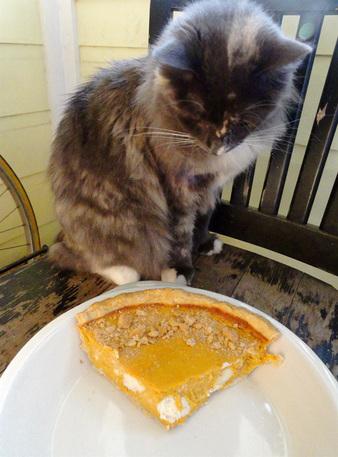 Cricket eyes the pie Maybe this is odd.


After writing those few sentences, it feels stranger than when it just swirled around in my head.




But so often, I go through my days watching people, observing their mannerisms and interests, and I want to connect with them, to learn more of their stories.




"Wouldn't it be cool if we had a gadget that would spit out details about the people living in these homes?" I asked Ryan on a walk we took a few weeks ago.




"We could learn if they were married, if they had children, what they did for work, what they did for fun..."




Ryan looked at me like I was crazy...and I am a bit crazy, but I still think it would be fun.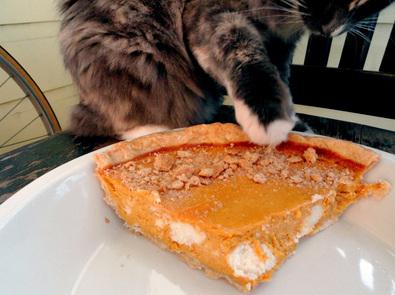 Cricket goes in with the paw Because sometimes, even though I want to

know

all these different people, I don't know if I can handle the work relationships require.


There are days when I feel saturated by both the pain and the joy of living. The successes and failures of my friends and family.




But on those days, my curiosity about humans, about our society doesn't just disappear, and so maybe that's why I like to watch people, to observe from a distance.




But just like with the sock-man, I'm left a little empty when staring is all I can do.




To be pulled and pushed away from connection.

To want to drink in the world and yet feel like you're already too full.


This pumpkin cheesecake pie was shared with a group of my friends...people I cherish, and people I'm thankful I share my life with. They fill me up, but in a good way.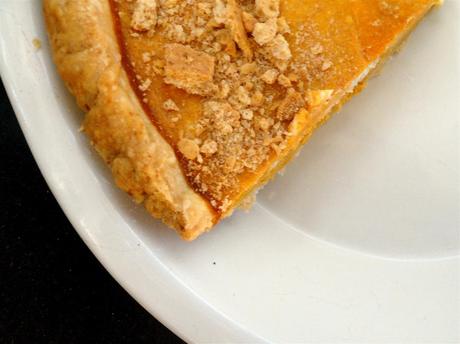 Pumpkin Cheesecake Pie


1 cup sugar
3 tablespoons all-purpose flour
1 package (8 oz) cream cheese, softened
1 package (3 oz) cream cheese, softened
1 teaspoon ground cinnamon
1/4 teaspoon ground nutmeg
1/4 teaspoon ground ginger
1/4 teaspoon ground cloves
3 eggs
1 can (15 oz) pumpkin (not pumpkin pie mix)
1 tablespoon milk
Single Crust (either pre-baked graham cracker or partially-baked pastry)
A handful of crushed graham crackers (optional)


In large bowl, beat sugar, 3 tablespoons flour and both packages of cream cheese with electric mixer on low speed until smooth; reserve 1/2 cup. Add all remaining filling ingredients except milk to cream cheese mixture. Beat on medium speed, scraping bowl constantly, until smooth. Pour into crust.


In small bowl, mix reserved 1/2 cup cream cheese mixture and the milk. Spoon over pumpkin mixture. Cut through cream cheese and pumpkin mixtures (Warning: this will not create swirls. Don't worry. Chunks of cream cheese are just fine.) Cover edge of crust with 2- to 3-inch strip of foil to prevent excessive browning.



Bake 35 to 40 minutes or until knife inserted in center comes out clean, removing foil for last 15 minutes of baking. Cool 30 minutes. Sprinkle graham crackers on top. Cover loosely and refrigerate at least 4 hours before serving. Store in refrigerator.




Always,




Monet


Anecdotes and Apple Cores