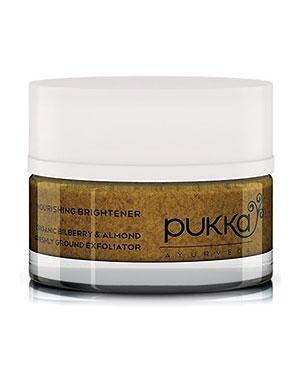 This is a 100% organic face scrub, made following Ayurveda's principles. It has been conceived for normal to oily skin and has detoxifying and replenishing properties. 
I purchased it on Naturisimo for 13£. 
Let's go directly to the analysis of the ingredients' list: 
Prunus amygdalus dulcis (Almond) Seed Powder*, Vaccinum myrtillus (Bilberry) Fruit Extract*, Emblica officinalis (Amla) Fruit Powder*, Asparagusracemosus (Shatavari) Root Powder*, Glycyrrhiza glabra (Licorice) Root Powder*, Rubia cordifolia (Manjishtha) Root Powder*, Hydrocotyle asiatica (Gotu kola) LeafPowder*, Azadirachta indica (Neem) Leaf Powder*, Athrospira platensis (Spirulina)Powder*, Curcuma longa (Turmeric) Root Powder*.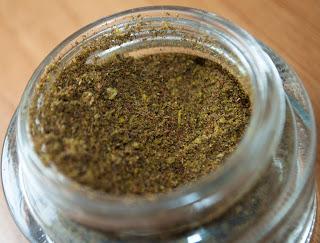 As you can see this is a blend of dried herbs, seeds and fruits formulated to help achieving a radiant complexion. 
It contains almond seed powder (simply an exfoliating agent), bilberry extract (rich in vitamin C, it is also tonic and astringent), licorice (illuminates and gives radiance to the skin), turmeric (
anti-inflammatory properties), spirulina (stimulates the formation of collagen and elastin) and various ayurvedic plants extracts that together detoxify your skin cells, lifting up your complexion!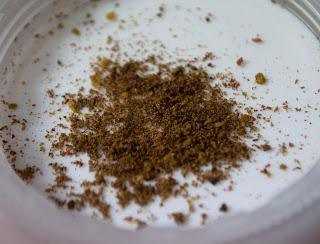 Is is definetely a well-formulated scrub, I love the blend of natural extracts they made and the fact that it is in a dry form so that everytime you use it, you can be free to add it to your mask, cleanser or simply to a few drops of water if you are in a hurry! What I don't like about it? It is not finely milled enough in my opinion, but I easily 'solved the issue' by putting it a few second in a coffee grinder :)  
Kali