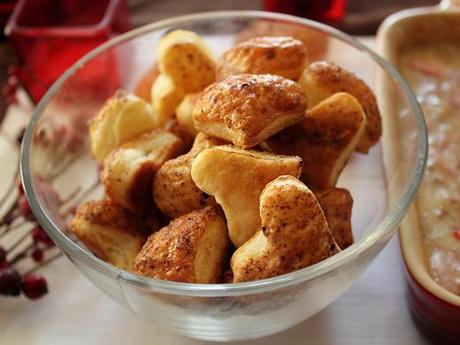 How we think of ourselves and how others think of us are not always the same.  I like to think of myself as a romantic.  But it has come to my attention that this is not an accurate description of myself.  I blame my mom.  Just kidding.  Kinda.  I'm not really kidding, but I don't want to sound like I don't love my mom - I love you mom!!  Of course parents are blamed for everything.  Such a cliche, right?

When it comes to Valentine's Day, I can totally do the cheesy side of it.  Like these puffy hearts.  Heart-shaped eggs.  And I make a homemade heart-shaped banner thing to hang on the wall (I do silly banners for all the holidays).  This year, I made marshmallows and fudge and cookies and chocolate pretzel toffee bark and put them all in these cute containers decorated with hearts.

But the other stuff - the romantic stuff - seems so intimidating.  Seth asked me, "Ohh what should we do for Valentine's Day," and I'm like, "We could either make dinner together... or I make dinner...or we get takeout?" He was like, "so just like any other night."  I was like, well, you know, but special food!  He then replied "You never think big!"

I asked my mom what her boyfriend and she were doing for Valentine's Day this year.  And she said "nothing." She said she already told him she doesn't want to do anything.  And this wasn't said in a mean or bitter way.  She just genuinely doesn't want to do anything.

So you can see now where I get it.  But I'm not quite at that level of anti-romance yet.  I hope.  However, I did get Seth bath towels as a gift.  So there's that.  Super amazingly soft and all.  But, you know, they are still towels.

But Seth, he is the one that can think big.  Many moons ago, I did a study abroad in Germany.  One morning, the doorbell rang.  Which was strange.  Not because it was early (which it was).  But because I knew like a total of 4 people in the city. So I went down to the door and Seth was standing there.  A total surprise.  When he asked me to marry him - it involved kayaking and creating a large fort out of sheets.  

So I might not be good at the big stuff.  The grand stuff.  The romance.  But I can do the cute and cheesy (literally cheesy - I really crack myself up over the most ridiculous things).  Like these puff pastry hearts and brie melted with strawberries, white wine, rose, sugar, and pistachios.

Maybe it is best to think of these not as faults per se.  But a division of labor.  Specialization.  After all, someone has to do the taxes.


Ingredients


1 sheet puff pastry, thawed
1 egg, lightly beaten
4 teaspoons sugar
2 teaspoons ground dried rose leaves
1/2 pound wedge of brie
2/3 cup chopped strawberries, plus more for garnish
2 tablespoons pistachios
splash of white wine
3/4 teaspoon ground dried rose leaves
2 teaspoons sugar


Instructions


Heat oven to 350.  Mix 4 teaspoons sugar and 2 teaspoons ground rose in a small bowl.  Brush the thawed puff pastry sheet with the egg.  Sprinkle the sheet with rose sugar. Use heart shape cookie cutter to cut hearts from the dough.  Bake 10-15 minutes, until puffy and golden brown.
Heat oven to 350.  In a small oven-proof baking dish, combine the wedge of brie (chopped up a bit), strawberries, pistachios, white wine, rose, and sugar.  Bake for 10-15 minutes, until all melty.  Give it a stir and top with more strawberries.