New to little Indiana? Subscribe for free to my RSS feed. Thanks for stopping by!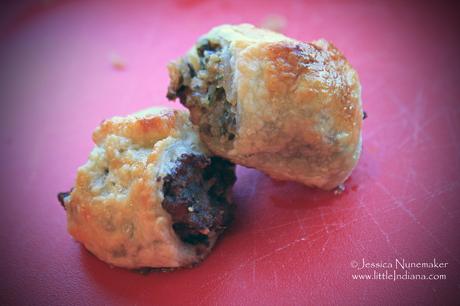 Puff Pastry Sausage Appetizers Recipe
Many long years ago, I started copying recipes out of my mother's cookbooks. This was before kids, before husband, before moving out on my own. I like to be prepared. This appetizer recipe for Puff Pastry Sausage Rolls is one that I copied down–but didn't get around to trying it until recently!
When we had our old neighbors over, three girls who used to live next door, I decided that Puff Pastry Rolls sounded like a fun snack.
I whipped up a quick marinara sauce to serve it with and they were a hit! Kid #1 continually asks for me to make these again. Absolutely I will! This fun appetizer recipe should make an appearance at any gathering!
Puff Pastry Sausage Rolls Recipe
Print Puff Pastry Sausage Rolls
Rating: 51
Prep Time: 1 hour, 30 minutes
Cook Time: 25 minutes
Total Time: 1 hour, 55 minutes
Ingredients
1/4 Cup Breadcrumb
2 Tablespoons Milk
1/2 lb Sausage
1/2 Onion, Minced
1 Egg
2 teaspoon Garlic
1 teaspoon Oregano
Salt and Pepper
1 Sheet Frozen Puff Pastry, thawed
1 Egg, lightly beaten (to brush on pastry)
Marinara Sauce, for Dipping
Instructions
In a small bowl, combine Breadcrumbs and Milk. Let stand for 5 minutes.
Combine Breadcrumb mixture, Sausage, Onion, Egg, Garlic, Oregano, Salt and Pepper.
Unfold the thawed Puff Pastry Sheet onto a floured surface
Roll out into a 20 x 10-inch rectangle.
With a pizza cutter, slice Puff Pastry crosswise into 10 x 4 strips.
Brush each strip with beaten Egg.
Spoon on 1/3 of the Sausage mixture in a narrow strip lengthwise down the center of each pastry strip.
Fold the pastry by taking the long sides and pulling over to cover the filling and overlapping a bit. Transfer to greased baking sheet and arrange rolls seam-side down.
Cover and chill for one hour or until the Puff Pastry is set.
Cut each roll crosswise into 8 pieces. Arrange on greased baking sheet with some space between each roll.
Brush with remaining beaten egg.
Bake 425* for 20-25 minutes or until light golden brown.
Serve with warm Marinara Sauce for dipping.
Schema/Recipe SEO Data Markup by ZipList Recipe Plugin2.0
http://littleindiana.com/2012/12/puff-pastry-sausage-rolls-recipe/
Photos are the Property of little Indiana. Do Not Use Without Permission.
pictures in Indiana
little Indiana Tumblr blog
Just don't forget to tell 'em that  little Indiana sent you!
Don't miss a moment. Subscribe to little Indiana and receive instant updates to stay on top of everything "little."
little Indiana: Where to Stay, Play, and Eat in Small Towns in Indiana. Discovering Indiana's best small towns! Now get little Indiana on your Kindle.
Targeted. Relevant. Affordable! little Indiana advertising.