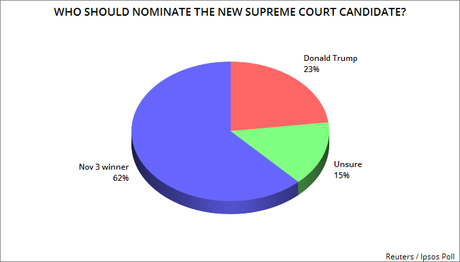 The chart above reflects the results of the Reuters / Ipsos Poll -- done after the death of Justice Ruth Bader Ginsburg. They questioned 1,006 adults, and the survey has a 4 point margin of error.
After denying President Obama the ability to appoint a Supreme Court Justice in 2016, the Republicans are now trying to rush through another Trump appointment -- even though there is far less time until the election than was true in 2016.
It political hypocrisy, and the American people know it. About 62% say the winner of the November 3rd election for president should be the person to nominate a replacement for Justice Ginsburg. Only 23% say Trump should go ahead and make that nomination.