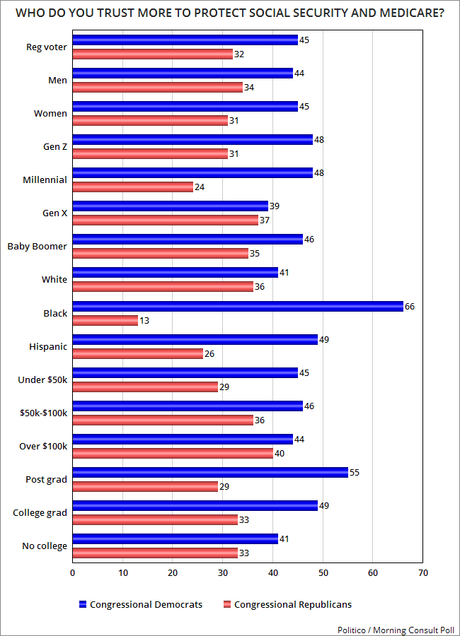 This chart reflects the results of a recent Politico / Morning Consult Poll -- done between February 15th and 19th of a national sample of 1,914 registered voters, with a 2 point margin of error.
It shows that registered voters trust Democrats more than Republicans to protect Social Security and Medicare by a 13 point margin. And that is true of all the demographic groups (education level, income level, race/ethnicity, age level, and gender).
This shouldn't surprise us. Both programs work very well and are very popular with the public. In spite of that, the Republicans in Congress have expressed a desire to cut both programs. They want to do that to cover the trillion dollar a year hole they blew in the federal budget by passing a huge tax cut for the rich and corporations.
They want Americans to believe it is Social Security and Medicare that's causing the budget deficit and growing national debt. That is a LIE. Social Security has never added a penny to the budget deficit or the national debt, and Medicare adds very little.
The Republicans have never liked either program, but they love lowering taxes for the rich and corporations -- and given a choice they will happily throw American seniors under the bus. They are not the party of fiscal responsibility (as they claim). They are the party of the rich, and it's time for voters to realize that.
I doubt they can cut either program since the Democrats now control the House of Representatives, but it wouldn't surprise me if they tried anyway. That would be a big mistake, and it would come back to bite them in the 2020 election.