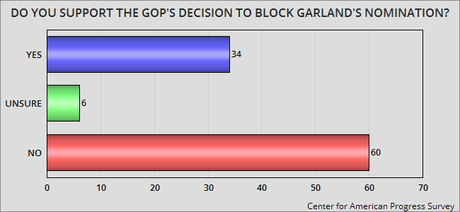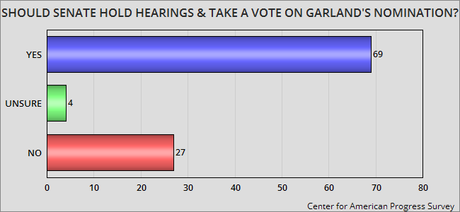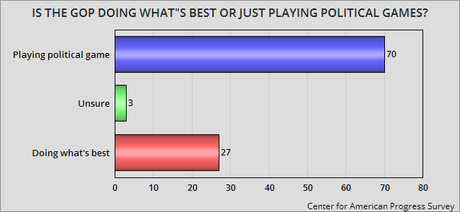 When President Obama nominated a replacement justice after the death of Antonin Scalia, the Senate Republicans decided to play politics and refuse to even consider the nomination. It didn't matter to them that the president had nominated a moderate (Merrick Garland) who in the past had been praised by both parties. They wanted to hold out in the hope that a Republican would be elected president this year, and that Republican would nominate a far-right candidate to replace Scalia.
That action now seems to be backfiring on them. Their party's nominee is going to be Donald Trump, and the chances are very good that he can't be elected (and no one knows what kind of justice he would nominate if a miracle happened and he did get elected). But perhaps most important is the fact that the country doesn't like the GOP Senate's action.
The charts above reflect a new survey by the Center for American Progress -- done between April 18th and 25th of a random national sample of 1,300 registered voters, with a margin of error of 3.1 points. As if having Trump as their nominee wasn't bad enough, the GOP Senate's action is definitely rubbing voters the wrong way. It could well help to flip the Senate back over to Democratic control.
Only 27% of voters think Senate Republicans are doing what's best for the country. A whopping 70% of voters say they are just playing political games. About 60% say they do not support the actions the GOP is taking, and about 69% say the Senate should hold hearings on Garland's nomination and then give him an up-or-down vote.
McConnell still is adamant about obstructing Garland's nomination. He spent too much political capital trying to establish the blockage, and now would look weak if he backed down. But some GOP senators are starting to realize that they shot themselves in the foot, and it could hurt them in November.