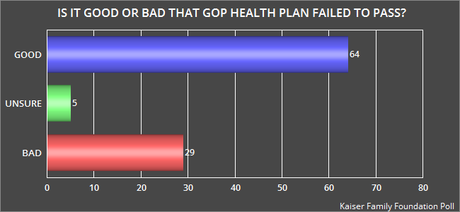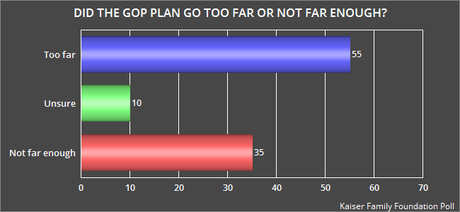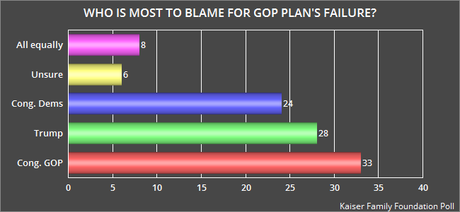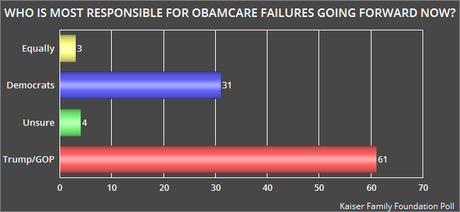 As you know, the Republican health care "plan" could not get enough support from their own party, and was withdrawn without even being voted on. That was a huge embarrassment for Trump (who promised to repeal Obamacare during his campaign) and the congressional Republicans (who have been promising to repeal and replace Obamacare for the last seven years).
There were hopes among some Republicans that their plan could be revived and rehabilitated -- and House leaders have been negotiating with the "freedom caucus" on how to get their support. But as the bill moved closer to what the "freedom caucus" wanted to see, it lost more votes among more moderate Republicans. Now it seems that hope is dying for any Republican health plan this year.
The GOP might not realize it, but that's the best that could happen for them right now. As the top chart shows, the public thinks it's a good thing that their plan failed (64% to 29%), because they think the GOP plan went too far in replacing the good things in Obamacare (55%).
The GOP (and Trump) have tried to blame the Democrats for the failure of their health plan, but the public is not buying that. About 61% put the blame on Trump and congressional Republicans (28% say Trump and 33% say congressional Republicans), while only 24% say the Democrats are at fault.
But the most interesting part of the poll is reflected in the bottom chart. While the public doesn't want Obamacare repealed, they do want it fixed (to hold down insurance premiums and medical costs, and to insure more people). Trump has said he wants to just let Obamacare fail, and the congressional Republicans don't seem ready to do anything at all. But the public thinks, since the Republicans are in charge of the government, they now have the responsibility to fix Obamacare -- fix it, not repeal it.
This puts the GOP in a difficult position. They can't repeal Obamacare without incurring the wrath of the public -- and they can't let Obamacare's failures continue without being blamed for not fixing it. That's not the position they want to be in -- but it's their own fault, thanks to seven years of anti-Obamacare political theater.
The charts above are from the latest Kaiser Family Foundation Poll -- done between March 28th and April 3rd of a random national sample of 1,203 adults, with a 3 point margin of error.