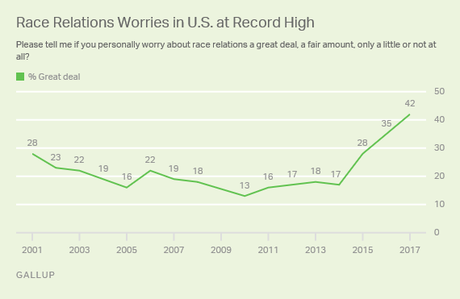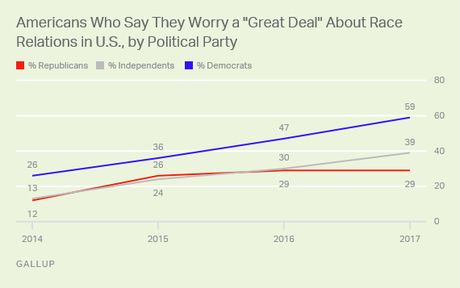 Worry over racial relations in the United States was already increasing before Donald Trump became president (thanks to too many police murders of unarmed Blacks, and the recent revelations of a continuing institutional racism). But they have risen even further since Trump's inauguration -- currently resting at a record high for the 21st century.
This should not be surprising. Trump himself has a history of racist activity (especially in housing), and he has installed a racist as Attorney General and a white supremacist as his closest White House advisor.
The current level of those who say they worry a great deal about race relations in the U.S. is 42% -- 29 points above the low in 2010, and 7 points above the level before Trump's inauguration. Since his inauguration, the worry among Democrats has increased by 12 points, and the worry among Independents has increased by 9 points.
The only political group which has not seen a rise in worrying about race relations is Republicans. That's not surprising, since most in that predominantly white party refuse to even admit the U.S. has any racial problems.
These charts are from a recent Gallup Poll -- done between March 1st and 5th of a random national sample of 1,018 adults, with a 4 point margin of error.