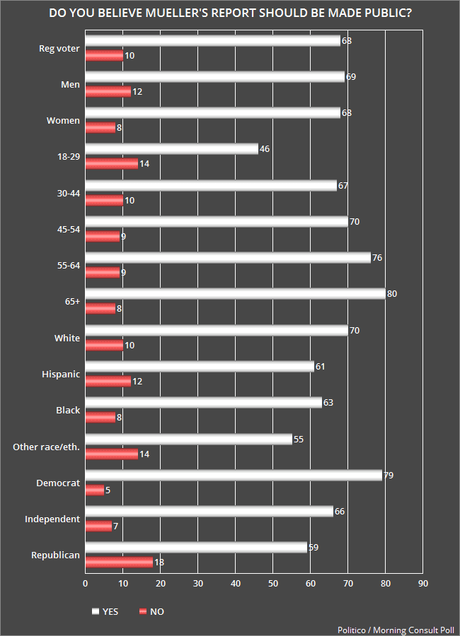 Will the results of the Mueller investigation be made public? Attorney General Barr has not promised to do so. He has said he would release what he could, and sadly, he is not required to release the report to the public -- but only his own interpretation of what the report found. Considering the Republican whitewash of Trump in the past couple of years, that is not good enough.
Rep. Adam Schiff (D-California), chairman of the House Intelligence Committee, is committed to making the report public. He has said that if the report is not made public, he will subpoena it and call Robert Mueller to testify before Congress -- and if the subpoena is not honored, then he's prepared to go to court to force its release.
He has the backing of the public. As the chart above shows, an overwhelming majority of Americans (registered voters) wants the report made public (68% to 10%) -- a gap of 58 points favoring release of the report to the public. If the Republicans try to hide the report, they will just anger the public. And that includes their own base -- 59% of whom want the report made public.
The chart above reflects the results of a new Politico / Morning Consult Poll -- done between February 22nd and 24th of a national sample of 1,994 registered voters, with a margin of error of 2 points.