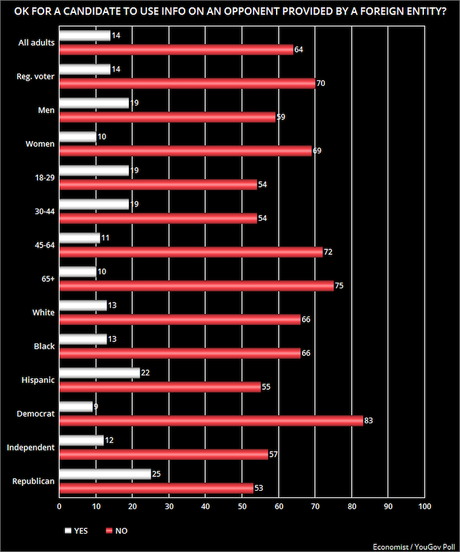 Donald Trump said a few days ago that he would want to see any information a foreign government could provide him about his political opponent, and would not report such an offer to the FBI. He later tried to walk that back a bit, saying he would report such a contact if there was something wrong.
He still doesn't seem to understand. Foreign governments don't provide information because of their generous nature. They do it because they want something in return -- and that's ALWAYS BAD! Russia helped Trump in 2016 because they wanted U.S. sanctions against them lifted, and Trump tried to lift those sanctions as soon as he assumed office. Fortunately, Congress stepped in and stopped that.
Not only is accepting help from a foreign government wrong, but it is also ILLEGAL! Accepting anything of value from a foreign government during a campaign is illegal, whether it's money or opposition research or hacked e-mails -- ANYTHING!
But breaking the rules or the law have never seemed to bother Trump. In fact, he now thinks he is above the law and should be able to do whatever he wants.
But the American people don't agree. Overwhelming majorities of all demographic groups say accepting information from a foreign government about your opponent is inappropriate. It's just wrong! And that includes 53% of Republicans.
The chart above uses information contained in the latest Economist / YouGov Poll -- done between June 16th and 18th of a nationwide sample of 1,500 adults (including 1,202 registered voters). The margin of error for adults is 2.7 points, and for registered voters is 2.9 points.