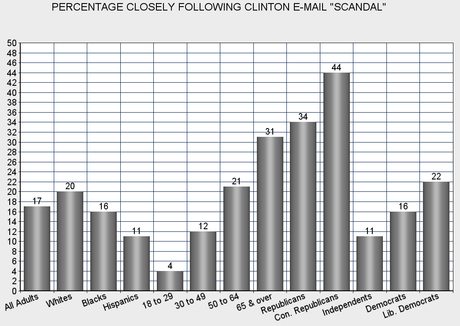 The Republicans, with help from the cable news media, have been doing their best to turn Hillary Clinton's use of a private e-mail server while Secretary of State into a scandal. Their reason is obvious. They know they won't stand much of a chance against Clinton in 2016 unless they can somehow smear her good name -- and even then it would be tough-sledding for their far-right nominee.
Unfortunately for them, they have been unable to unearth any real wrong-doing with Clinton's use of private e-mail -- and haven't been able to explain why that was wrong for Clinton when members of their own party have done the same (Colin Powell, Jeb Bush, etc.). And because of that, they haven't been able to drum up much interest among the general public for the "scandal" -- even with the help of the media.
Note that only about 17% of the general public says they are paying close attention to the story. The only people with significant interest in the story are Republicans (34%) and especially, conservative Republicans (44%) -- the people who won't vote for Clinton no matter what.
There has also been some attempt by a few liberal Democrats to make something of this false scandal -- those who are trying to convince Elizabeth Warren to enter the presidential race. But even among liberal Democrats the interest is low -- only about 22%. And as the chart below shows, Clinton's favorability remains very high among Democrats -- even liberal Democrats.
The chart above is from information contained in a Pew Research Center survey -- done between March 5th and 8th of a random national sample of 1,000 adults, with a margin of error of 3.6 points.
The chart below is from a Gallup Poll done between March 2nd and 4th of a random national sample of 649 Democrats, and has a margin of error of 5 points.