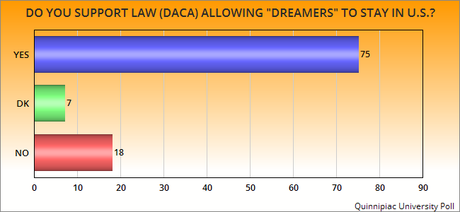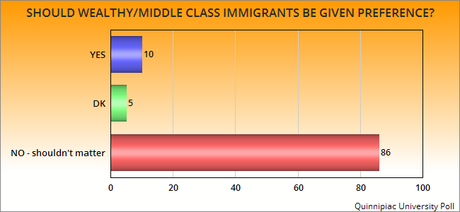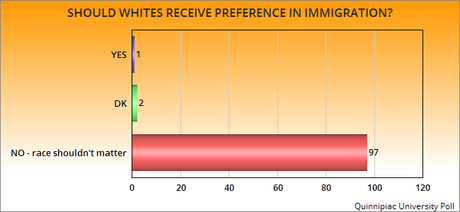 Donald Trump is wanting to drastically change immigration to the United States. And to get the changes he wants, he is holding the "Dreamers" (people who have grown up here after being brought here as children) hostage. He says he will only allow the Dreamers to stay (and possibly become citizens) if the Congress gives him what he wants -- $25 billion for a wall on the Southern border, an end to visa lottery immigration (which brought in nonwhite minorities) and an end to family-based immigration (and replace it with a Merit-based system, while would give preference to wealthier, more educated and skilled people).
I'm not sure Trump is operating from a position of power on immigration. His xenophobic base may be happy with the changes he wants, but I'm not sure the general public is. In fact, about 97% don't think whites should be given preference in immigration, but say race/color should not matter. And 86% say immigrants should not be given preference because they are wealthy or middle class instead of working class or poor.
Add to this the fact that 75% want Dreamers to be allowed to stay in the U.S. (the only country they have known), and a Trump refusal to let them stay if he doesn't get his wall or immigrations law changes is unlikely to sit well with the American people.
These chart reflect numbers from the recent Quinnipiac University Poll -- done between January 19th and 23rd of a random national sample of 1,245 voters, with a 3.3 point margin of error.