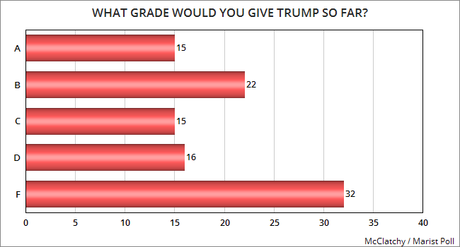 A new poll asked respondents to give Donald Trump a letter grade for his job performance as he approaches 100 days in office. The results were not good. About 48% thought he deserved either a D (16%) or F (32%), while only 37% would give him an A (15%) or B (22%). That's a significant 11 point margin thinking he deserves a poor grade.
With those grades, it is no surprise that a majority disapproves of the job he is doing (51%), while his approval has slipped to only 38% (see bottom chart). About 57% also say his policies benefit only the rich.
These charts were made from information in a new McClatchy / Marist Poll -- done between March 22nd and 27th of a random national sample of 1,062 adults (including 906 registered voters), with a margin of error of 3 points.