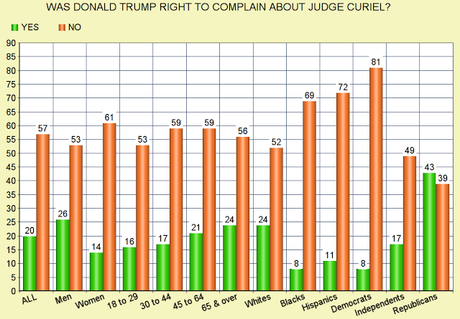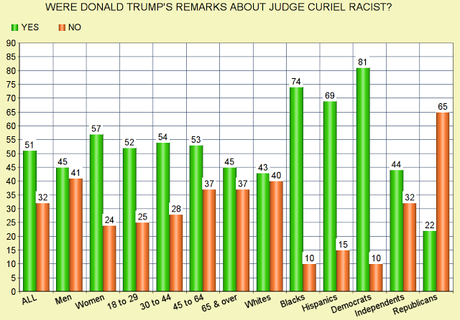 Unless you've been living in a cave completely cut off from society, then you heard about Donald Trump using his campaign to personally attack the judge hearing his case on the fraudulent Trump University. He did beat around the bush, or make inferences. He came right out and said Judge Curiel couldn't be fair because of his Hispanic heritage -- a blatantly racist statement.
Officials of both political parties immediately jumped on him -- the Democrats because it gave them ammunition for the campaign, and the Republicans because they had visions of going down the tubes with Trump. But what did the American public think?
The folks at the YouGov Poll decided to find out. They queried a random national sample of 1,000 U.S. adults between June 6th and 8th, and their poll has a margin of error of 4 points.
They found that a majority of Americans (57%) didn't like Trump's statements about the judge. And a slightly smaller majority (51%) said they thought his statements about the judge were racist. Only one demographic group disagreed -- Republicans.
But Trump needs to realize that the primaries are over. The campaign must now appeal to everyone -- not just Republicans. And Trump's racist statements did not go over well with the general public. He hurt his candidacy.A smart candidate would immediately admit he was wrong and apologize -- but Trump never apologizes, no matter how wrong he is.
Trump is destroying his chances at the White House with his inability to control his mouth. Does anyone really want a president with no self-control (or conscience)?