Some people are just too thin-skinned, hyper-sensitive, and party poopers.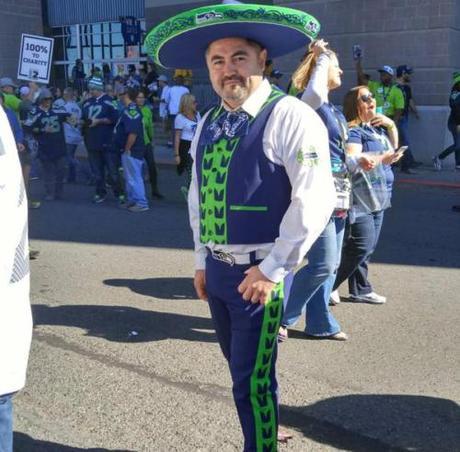 Mynorthwest.com:  Many 12s have seen Efrain Lopez at Seahawks games. After all, he's been a season ticket holder for years. But recently, a seemingly innocuous Twitter post featuring this passionate Seahawks fan has sparked an online war of words, causing a lot of hurt for the man's family and community.
Lopez, of Milton, decided about eight years ago to do something special with his Seahawks fervor. "He started thinking of what he could do that would represent not only him but his passion for football, and represent his community," Lopez's wife Ana said.
So Lopez came up with the idea for an authentic Charro suit — similar to those worn by Mariachi bands. He even got it hand-made in east Los Angeles.
It was expensive and elaborate. The wide-brimmed sombrero and matching vest and pants adorned with hand embroidered stitching features the Seahawks logo and colors, matching the team's uniforms.
He's been wearing the suit for years, and it's garnered some attention. This week, a photo of Lopez in his suit went viral when ESPN Sports Reporter Darren Rovell tweeted a picture of him. That's when the problems started.
Rovell didn't bother asking Lopez for his name or anything about him. Instead, he tweeted a photo with the headline, "He calls himself the Seattle Si Hawk."
Well, that's not true — Lopez does not call himself the "Si Hawk." But the post sparked an onslaught of racist online comments across social media — many citing illegal immigrant stereotypes.
"This guy puts so much passion into it and he put his culture into it, and he did his research. His costume has a whole story and a meaning behind it," Ana said.
He wanted to let it go. But his wife wasn't about to. Ana wants people to know the real story, and more about her husband — the man in the suit.
"He represents his community, as a Hispanic," she said. "He's a volunteer for many communities. He puts together events for the Ronald McDonald house and cooks meals for the families there. He volunteers for his Port of Seattle community because he's a Port of Seattle employee."
And in defense of Rovell, nothing racist was intended by his post — he was seemingly impressed, as were many other people who commented online.
But with so many others spewing hate and racist comments, Ana says she's troubled with how easy it is to get something so wrong and cause so much trouble for someone. "He's not just a Mexican in a Charro suit," Ana said.
DCG