Proto.io, a mobile prototyping platform that's been organically growing its footprint over the last couple of years, is now offering a fairly notable new feature: In addition to being able to easily build mobile app prototypes using its service, it has just launched native iOS and Android apps that let you view your prototypes in the most realistic manner possible. What that means for end users is that you can quickly make changes to your prototype, then view it as a fairly functional mobile application, as opposed to within a mobile browser, like other app prototyping tools permit.
Explains the now San Francisco-based CEO Alexis Piperides, the company previously let you run your mobile prototypes in browsers like mobile Safari or Chrome. "However, mobile browsers have the user interface – like the header, the address bar – it was intrusive for our type of work. We wanted to have a fullscreen experience for our customers."
Plus, the addition of native apps means that your prototypes can run on any device, whether iPhone, iPad, or Android. Instead of you building an Android prototype and then trying to show that to someone with an iPhone, you can just point them to the native app download instead, and offer up the login.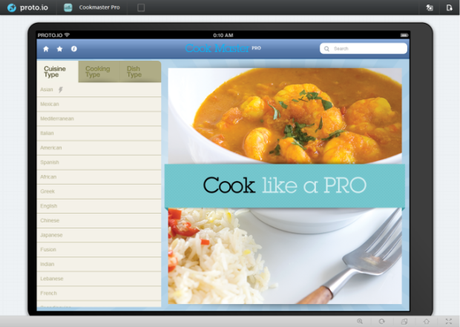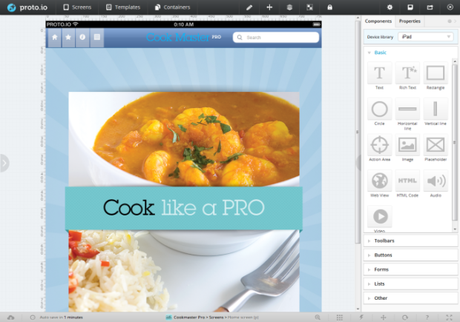 The company grew out of a Cyprus-based agency which, for years, did client work, including app prototyping. Originally, the Proto.io team built this service for their internal needs, as they wanted something that would let them show customers test versions of apps before having to take on the costly expenses of the design and development process. They later realized that the tool was actually something that might be welcomed by the public, and about two-and-a-half years ago, they spun it off into its own entity.
Last year, Piperides moved to the U.S. and created Proto.io as a U.S. company. Today, the freemium service has grown to 70,000 users, with a smaller number – around 1,500 – converting to paid accounts, meaning those on the subscription-based plans that begin at $24/month and extend all the way up to enterprise.
Proto.io also counts among its customer base several big names, including PayPal, eBay, Disney, Spotify and Evernote, as well as several agencies, both big and small, plus freelancers.
While there are other competitors in the app prototyping space, including "hotspotting" companies like Invision or Flinto, or more fully featured authoring tools that let you build prototypes from scratch, like Axure or Justinmind, Proto.io has until now fairly well differentiated itself through its feature set and ease-of-use. (A helpful chart is here.)
That is, you don't have to be a versed-in-Photoshop designer to use the service, which lets you drag-and-drop elements onto the screen, type in text, add images or buttons, and then link those to other screens. The service also lets you do more complex things, if you choose, like adding custom animations, for example.
"We have a very strong animation engine on the platform that allows you to animate anything on the screen and use timelines to define how long animations will take place," says Piperides.
And though designed primarily for use with mobile apps, the company has found its customers are using it for other emerging Internet-connected devices, such as smart TVs, gaming devices, refrigerators, alarm clocks and cars (including Apple's Carplay); it also supports Google's Android Wear smartwatches, too.
Proto.io has a small amount of seed funding and is preparing to raise its Series A in order to hire its San Francisco-based team.
The new Proto.io apps are here on iTunes and Google Play.