Dropbox is one of the most popular cloud storage services available on the Internet. Even though I don't use it personally, I know a lot of you guys do. But some of you might not be aware of the recently introduced two-step verification safety measure on Dropbox. It's still in testing mode but if you have some very important files stored on your account, you can use this method to protect your Dropbox account from hackers.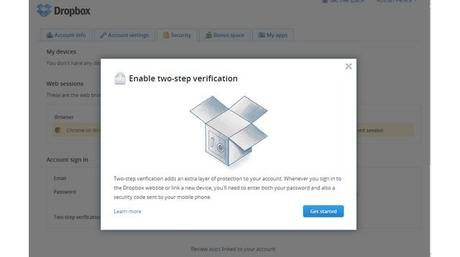 Two-step verification is not really a new thing for Internet users as it's already available on a lot of popular websites like Facebook and Google. It is a very useful security measure that can be used to protect your profile, identity, and valuable files from hackers. Basically this adds a second floor of protection to your password by allowing you to personally verify your identity with a code that hackers can't get a hold of.
Now lets find out how to enable this safety measure on Dropbox.
Sign in to your Dropbox account
Switch to the Security tab. At the bottom of that page you will find the option to enable the two-step verification. It's disabled at default. Just click Change and get started.
When prompted, enter your password to continue.
Select a method to receive security code for verification. You can either go with Text message or Mobile app. Personally I recommend you to go with text message because it's easier and more secured than the mobile app.
If you decides to go with text message, you will have to enter your mobile number. Then you will receive a code on your mobile. Enter this code to finish and enable the two-step verification.
If you like the mobile app method, then you will have to install a mobile app like Google Authenticator, Amazon AWS MFA  to generate a unique time-sensitive security code to log in to your Dropbox account. You can go with scanning the barcode or entering the code by yourself. Once you're done, you will have to enter a code generated by the app to finalize the two-step verification process.
 
(All the images, trademarks, logo's shown on this post are the property of their respective owners)
Roshan Jerad Perera