Evening all,
Today, I want to talk about the property sector of the local stock market. I mentioned earlier in the year that the property stocks look quite bearish in general. After browsing through all the charts of counters in the property sector, my stand has not changed: not only are the big developers looking downright bearish, most of the smaller-cap ones look not much different. REITS retraced from their surge after the 2008-2009 crisis, and are now flat – they have lost their luster. If you think about it from the fundamental side, it is no surprise that property stocks are not looking bullish at all; what with the multiple attempts by the government to cool down the en bloc fever and accelerated increase in property prices in recent history.
For REITS, my approach has not changed – I consider what yield the market demands from REITS. For now, the market has definitely found a comfortable level to price most of the REITS, so I do not see any catalyst for REITS to move substantially in any direction.
CapitaLand, C31.SI, had clearly turned bearish (around two weeks ago) in the short-term because of a break of an important support level at about $2.93. Longer-term trend indicators like the 200-day MA and 50- and 200-week MAs are downright bearish. I see a good chance for some buying pressure to inch CapitaLand up but the I will adopt the "sell the rallies" mentality for trend plays.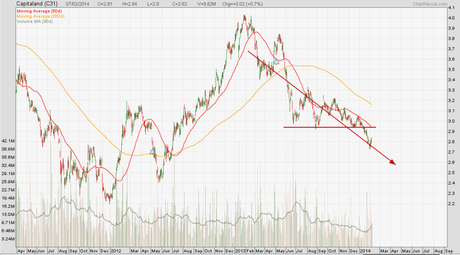 Wing Tai performed quite spectacularly from 2012 through 2013; however, a downward break of the 200-day MA late last year sent Wing Tai falling by more than 15%. The recent slide initiates the downtrend that Wing Tai is in now; as such, there will be trend set-ups on the short side.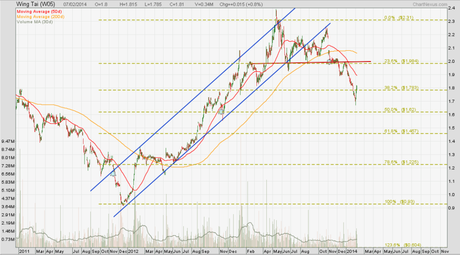 In the few charts, I show a few more counters that I will be watching in the weeks ahead.