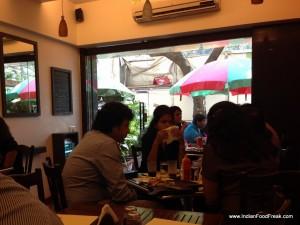 If I were to go back in time and look for a place, in my college or early career days to chill with friends, to have a quick sumptuous bite and not dent my wallet too much – Pronto would be the place!
Today if I needed a meal for my family which has diverse tastes – from soups and salads to my ten year old who is a perennial pizza addict, I would order home delivery from Pronto. In short it has something for everyone. That's the claim they make and that's what they stand by.
Last wednesday afternoon I landed at Pronto on Hill Road, Bandra. The food is Continental, based on the quick service concept. So feeling young again back to my college days of laughter and fun – chatting with the staff we settled in anticipation, after all, the menu is exhaustive and they have also introduced some new dishes.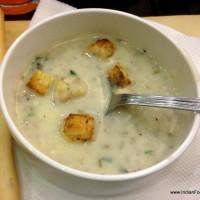 The soups –grilled chicken& mushroom; creamy and wholesome with a hint of herbs and newly introduced spinach, leek and celery broth were like a warm blanket on a cold night. With just the right amount of herbs, creaminess and each ingredient standing out on its own, it was simple elegance. This set the tone for the afternoon beautifully…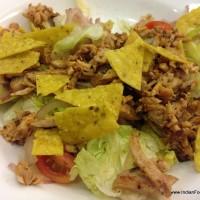 But like when you expect a perfect 10 and the teacher cuts your marks on punctuations, the Cayenne chicken salad was a trifle disappointing – it hit as a poor afterthought – not much dressing to talk about –dry – almost like a chicken sandwich filling.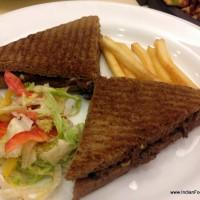 Like an unexpected holiday before a tough paper, the roast beef sandwich got us sunny again with its simplicity and sheer taste. It was rightly spiced with taste of horseradish and onions and set the ball rolling again.
Like a warm family hug that makes you feel complete, the "best ever supreme pizza" was loaded with meats and was made well with lovely crispy thin crust.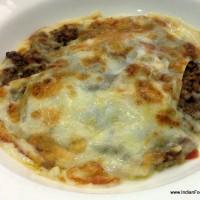 Like a welcome college break was the lasagne bolognese; sheet pasta stuffed with delectable lamb mince topped with parmesan cheese. Though I can't call it my Italian Holiday it sure gave a hint of the travel brochures.
Like you would meet a strict teacher on your break, the grilled kingfish was a downer again– maybe it swam in lesser saline waters, it was bland and the tomato white wine sauce did not have theflavours coming through.
But the all American mac n' cheese was rich with cheese with no pretensions – just honest to God. Just the way you may want from a day with the grandparents on your holidays to feel loved and secure again.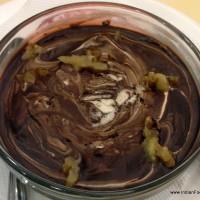 And then like you anticipate your results at the end of the year, I expected desserts. Did not expect less after all so far it had been a breeze. However they didn't come up to expectations. The desserts were probably a day or so old and hence my blueberry cheesecake had a slight dated taste but the chocolate brownie devastation stood up to the test even though it was not fresh.
Youth was full of ups and downs. You score some aces and some only borderline but overall you sail through and that's what counts. End of the year you celebrate a happy feeling and that's what I did when I came out of Pronto. It was value for money, honest heart fulfilling food. No pretensions.
Pronto has outlets in Tardeo, Churchgate, Lower Parel and Bandra. The one at Bandra has an outdoor and indoor sitting with about 20-22 covers. The climate being what it is and the potted plants, made it quite comfortable waiting outside until we were accommodated inside. The staff is extremely knowledgeable and co-operative. They also do catering and offer the premises for parties at no cost with minimum billing of Rs. 5000.
Overall I rate this restaurant a 3 for its good, wholesome, value for money food.
Ratings out of 5
Food: 3.0 | Ambiance: 2.5 | Service: 3.0 |Overall: 3.0
Meal for Two: Rs. 800 | Alcohol: No | Credit Card: Yes| Timing: 11am to 11 pm |
Address
: Pronto, Sham's Palace, 98 Hill Road, Bandra (w), Mumbai | 
Telephone
: +91 22 26412651 / 64555101 / 26412661
- Jenifer Petigara Mistry