When I was in college, I had a summer internship at a local performing arts theater. The Paramount Arts Center is a small, not-for-profit organization, so they have a small staff. At the time, the marketing team consisted of one woman, Jenny Holmes, and any interns she could find who would work for free. When I started the internship, I knew that I wanted to do some form of marketing, but I was still trying to find my calling. Jenny often had me work on social media and blog posts and taught me how to write a press release. We were always welcome to go to her office with questions, unless her door was closed. It rarely was, but it usually meant that she had some sort of deadline so we refrained from bugging her. I feel like I went to her with more questions than the other interns did. I second-guessed myself a lot and I didn't have very much confidence in my work. She put a stop to that by the end of the summer. She always reviewed our work before it got published. If we made a mistake, she never hesitated to tell us how to correct it, but she also made sure to tell us when we did a good job.
I loved working at the Paramount. The experience taught me more than any college course did. Whenever someone asks me who my best supervisor has been, I always say Jenny. I have realized that I thrive on constructive criticism, and she was never afraid to provide that. She also made work fun. She has this charisma that's just contagious. We've stayed in touch over the last few years (thank you, Facebook) and I was recently recruited for one of her projects.
She is a self-published author, and has written several how-to books, but dreams of writing a best selling novel. A few years ago, she was diagnosed with cancer. In typical Jenny fashion, she didn't let the diagnosis stop her from working and she has maintained her positive attitude during chemo, radiation, and multiple surgeries. She recently learned that her cancer is now stage 4, so she decided it was time to write her novel. Her book, appropriately titled "Best. Selling. Novel," is a collection of stories and experiences from her life – sort of a memoir.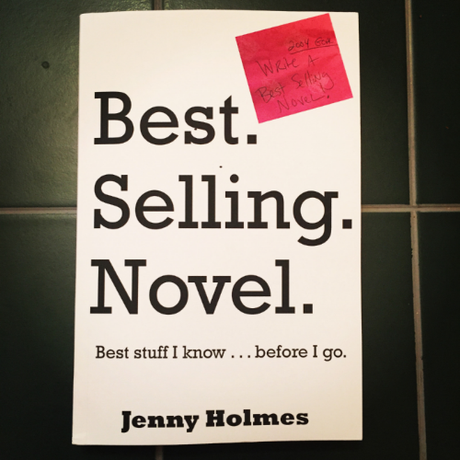 Originally posted on Instagram. Follow me for more: brittnparsons
When she asked me to help promote her book, I knew it was the least I could do. I learned so many important lessons while working with her, such as how to promote a best selling novel, and I have continued to learn valuable life lessons even after leaving my internship. Her positive attitude and desire to help others is extremely powerful and inspiring. I have known several people who have been diagnosed with cancer, and it always amazes me how positive they are during the battle. My goal, of course, is to help her sell as many copies of her book as possible, but first I need to share her story. Jenny created a Facebook page for fans to share thoughts about the book as well as stories, videos, and photos from their own life experiences. Her goal is to not only make it a best seller, but to use the proceeds to create a cancer foundation – more information on that to come. Visit the Facebook and Amazon pages to read more about the book, share your stories, and buy a copy for yourself and/or a friend, and help us make Jenny's book a true "Best. Selling. Novel." 
Learn more about "Best. Selling. Novel." on:
Facebook
Amazon