Last Tuesday, I went to an author event at Barnes & Noble Union Square. I was really stoked for the event because it was part of Nasty Gal founder Sophia Amoruso's book tour for the paperback version of her book, #Girlboss. I read the book in March, and I like to credit it as the reason I started this blog.
I used to blog pretty regularly, but life kind of got in the way. I got so wrapped up in trying to get my s*** together, that I forgot how much I enjoyed blogging. I never used to think of myself as a creative person, but I've realized that blogging is actually a great creative outlet (not to mention an awesome addition to my professional portfolio). I had considered starting a new blog for a long time, but for some reason, I just never seemed to actually sit down and do it. My website needed an overhaul, and my resume and LinkedIn definitely weren't updated.
It was late March 2015, and I was on my way to visit friends in New York City. I had just moved back to West Virginia from Florida to plan my move to New York. I quit my job without having another one lined up, I didn't have a place to live, I had no real plan, and I felt completely lost. I was hoping that my 10-day trip to the city would help put things into perspective. Since I was going to be on a train for 15 hours, I thought it would be the perfect opportunity to read #Girlboss. I won't say too much about the book, because you should read it yourself, but by the end of it, I knew I had to stop sitting around waiting for everything to fall into place and start making things happen. Within a week of reading #Girlboss, I had redesigned my website and written my first new blog post. 
I think the main reason I loved the book so much is that I can relate to Sophia Amoruso. I'm not the founder and CEO of a multi-million dollar company (yet), but I definitely felt a connection to her rebellious adolescence. I didn't take it quite as far as she did, but growing up (and still to an extent today) I hated everything mainstream, and I've always had a bit of a "stick it to the man" attitude. In #Girlboss, Amoruso talks about how she's grown, and about some of the mistakes she's made along the way, but she still seems to hold on to her punk roots. During the interview with Amy Astley last week, Amoruso referred to herself as a misfit. When they asked the audience how many of us considered ourselves misfits, I of course raised my hand.
Seeing Amoruso in person was definitely one of my favorite things I've done since moving to NYC. She's just...really cool. At one point, when talking about her employees' fashion, she said "Cleavage is cool, but don't have your boobs like hanging out." See? Cool. She also gave some great advice, like "Define what success means to you. Try not to live someone else's definition of success." That's something that I work on every day. A fan asked for advice on saving money / starting a business while living in an expensive place like New York City, and she responded, "Move out of the city...if you really want to build something, you have to take a step back sometimes." There is a lot more advice like this in her book. I have never been a fan of how-to or self-help books, and the great thing about #Girlboss is that it is neither of those. It feels more like you're having a conversation with Sophia, your friend who is telling you about her life and some awesome thing she did, while giving you a little bit of advice in case you decide you want to do something similar.
All of that being said, I do have one complaint. The interview was part of a promotional tour for the release of the paperback version of #Girlboss. There was a book signing during the event, but only for guests who had a paperback version of the book, along with the Barnes & Noble receipt. Amoruso would sign the hardcover copy, but only if you also bought the paperback. I'm not sure if this was her decision, the publisher's, or Barnes & Noble's, but it was highly annoying.  I live on a pretty strict budget, and spending money on a book that I already own is senseless and wasteful. I thought it kind of went against everything I got from #Girlboss. I understand that the point of the event was to sell books, but to those of us who had already bought, read, and loved the book, it was kind of a slap in the face.
I am annoyed, but there are no hard feelings, really. Even though I didn't actually get to meet Sophia Amoruso, I did enjoy seeing her in person and hearing more about what she has planned for the #Girlboss brand (I'm personally very excited for #Girlboss Radio). I also loved being around other women who were inspired by the book. A lot of the other attendees seemed to be interested in fashion, like Amoruso, but I think it's safe to assume that everyone was an aspiring #Girlboss. There were a couple of #Guybosses, but the women definitely outnumbered the men that night, which is a very refreshing change to what I'm used to.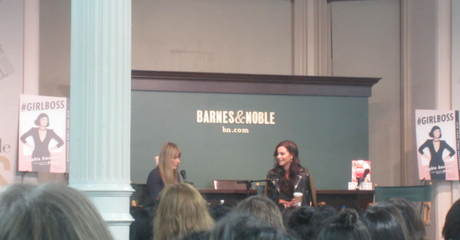 Amy Astley, Editor in Chief of TeenVogue, interviewing Sophia Amoruso at Barnes & Noble Union Square
Make sure to check out the websites for #Girlboss and Nasty Gal for more information on the book, Sophia Amoruso, and the company. If you want to see some footage of the event, you can watch this video on my YouTube channel.