In August of  2013 I first posted that
"
my ultimate goal is to make it feel as though the driveway cuts right through my garden" which meant converting a 
significant
 piece of forest hillside covered in dead leaves and fallen tree 
branches
 into a lush green expanse of Lily-of-the-Valley, Periwinkle and natives including Ferns & Columbine.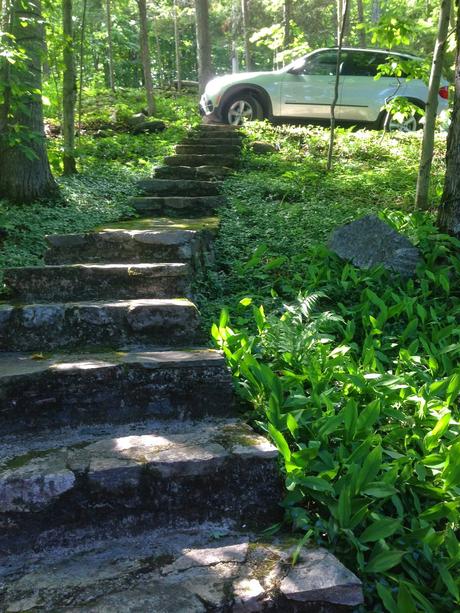 I love our staircase and the thick carpet of green on either side.  Last year for the first time from this perspective the green seamlessly jumped from below to above the driveway (directly in front of the car).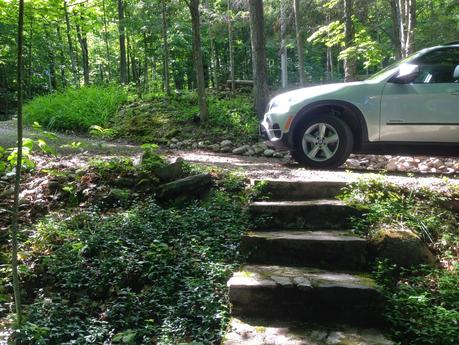 While upon close inspection there are still patches that need to be filled in, the fact that it can make the hillside appear comfortably 'green-from-a-distance' is a major milestone.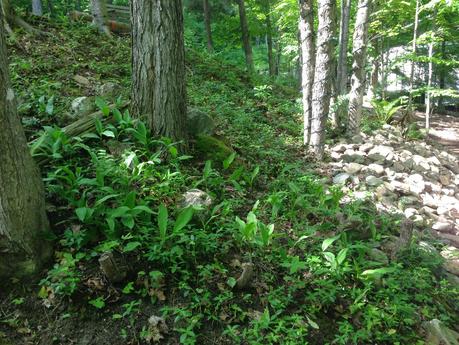 Thousands of individually transplanted plants are transforming the space.  Quite a dry hillside initially, my hope is that the dense root mat being formed will help to retain more moisture in the soil.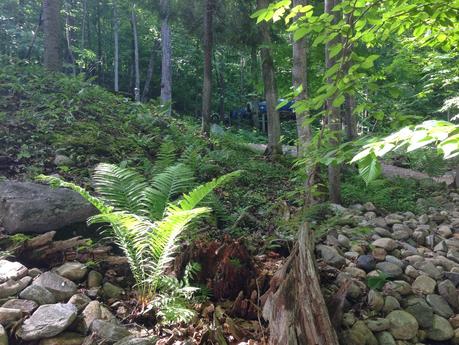 Nature may not always plop a gorgeous Ostrich fern in the middle of a decaying stump, but I do.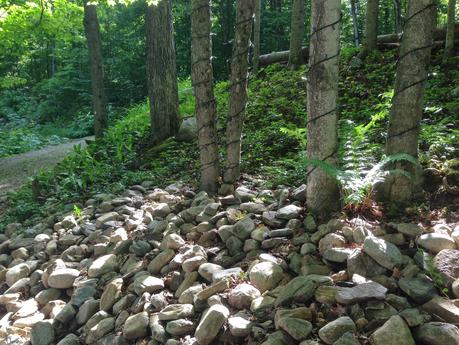 More ferns will be added at the base of trees with lights to take full advantage of their nightly display.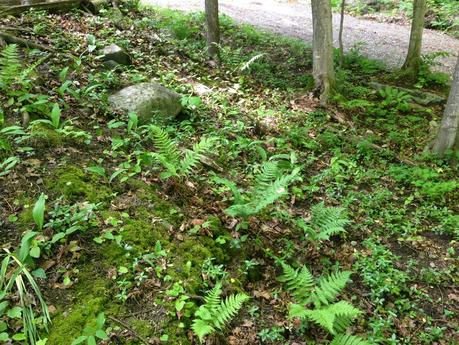 I have learned from
Piet Oudolf
to move away from the practice of random individual plantings and instead I place the plants in groups to increase their impact, as with these wood ferns in the foreground.
Even if I were never to lift another finger (other than annual raking!), I feel that I have nudged it to a tipping point and it will continue to fill in with little help from me, which is great since most of the summer we have renters at our cottage and I am only there 
twice
 a 
year
 to maintain the gardens.
Are there any other lovers of woodland landscapes out there?
***
Sharing with Floral Friday Fotos