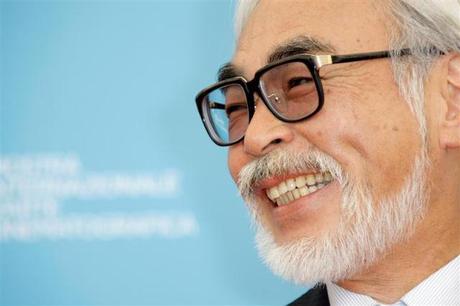 Earlier this month, Hayao Miyazaki took the stage at the Venice Film Festival after the screening of his latest film The Wind Rises(2013) to announce his retirement. Miyazaki is no stranger to retirements; he was in a semi-retirement after Princess Mononoke(1997) but then returned with wonderful and his most successful film, Spirited Away(2001) then back into retirement only to resurface in 2004. However this time he says he is serious. Only time will tell us if he is but if at all he is, that is indeed a sad news, especially for someone like me who has always been in love with his films and Studio Ghibli for many years. Miyazaki is one of the most well-known and respected directors in the world of animation and has left his unmistakable print on the medium in more than three decades of his career as a director. I am taking this opportunity to look back on his career, in the usual style of these posts, with the help of every film he has directed. Let me make few things clear first; this is a profile of a 'Director'. So I am only looking at the films he directed and I am looking at only his feature films. I would've loved to include his shorts as well as they are just as wonderful but I just couldn't get hold of all of them. With that, let's get right into it.
The Castle of Cagliostro(1979)
: Miyazaki had been working in various departments of an animated studio for almost two decades. He even had directed episodes of couple of TV serials but this marks the first time he put on the director's cap for a feature film. Coincidentally, this was the last of his films I saw. As a film, there is nothing quite wrong with it per say. This is actually quite a decent film; albeit a little amateurish in both story as well as in animation. It's just that it is such an odd-man-out from Miyazaki's filmography. Every film he did since then contains many very specific things that everyone now kind of expects from any Miyazaki film, or any Ghibli film in general, and Cagliostro is void of every single one of them. These traits definitely make his films richer in context and more layered and the lack of them doesn't necessarily imply inferiority but it is kind of distracting, especially when you know the director so well. Grade: B.
Nausicaa of the Valley of the Wind(1984)
: Success of this film made way for creation of Studio Ghibli next year. Even though this wasn't under studio's banner, it fits perfectly into that cannon. We have Nausicaa, a young, dynamic female protagonist that loves everything in the world she lives in and as bad the things get, has a confidence that it can still be saved and does everything she can to save it. We have Kushana, an antagonist to start with but with redeeming qualities and Asbel, Nausicaa's male counterpart who helps her in getting the things right. Story is strongly influenced by Japanese philosophy and motifs like commercial greed and their disastrous effects on the environment play very important part in it. It can be very warm and fuzzy when needed but also gets very dark as the things get worse. In a way, it was a test case for everything we know Studio Ghibli for now as all these features play very important part in every single film he directed and help form their own identity. And it works so wonderfully well even after almost 30 years. Grade: A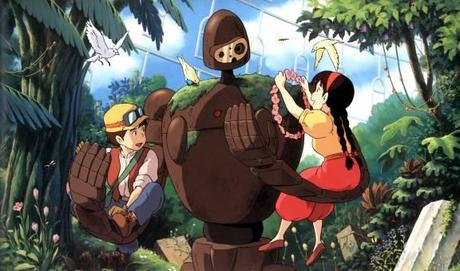 Laputa: Castle in the Sky(1986)
: In 1985, along with fellow animator Isao Takahata(who later went on to direct wonderful and heart wrenching Grave of the Fireflies(1988)) and producer Yasuyoshi Tokuma, he started his own animation production company, Studio Ghibli. Castle in the Sky became the first film produced under that banner. If you ask me to pick a film to introduce someone to Miyazaki and Ghibli, I will pick this one. It is very sweet, easy to get into and unlike some other films, is not too dark or violent but still leaves you with a great message. There is something wonderful about Sheeta and Pazu and their friendship that always warms my heart. In a typical Miyazaki fashion, these are kids wise beyond their years but they haven't lost their innocence. And that iron robot at the end is just the cherry on the top. As a matter of fact, this is my favorite film Miyazaki directed. One of the motifs of his films has always been morally ambiguous antagonist with various redeeming qualities. This is one of the only two films of Miyazaki to have a clear villainous character; other being The Castle of Cagliostro.Grade: A
My Neighbour Totoro(1988)
: Many of his other films might have been bigger critical or financial successes but I don't think you can find a more beloved or popular character than Totoro in this film. Most of his characters are inspired by the Japanese philosophy. Totoro, however, is created completely from his own imagination and is based on his own childhood experiences. Miyazaki also created Cat bus for this movie which I am quite sure is more popular than some of his movies. Another character that I dearly love is Mei; she is just the cutest little thing you will ever see. Unfortunately, I don't have the highest opinion of the film in general as I think it gets a little too sweet after a while but I am eagerly waiting for an opportunity to introduce this film to my 4-year old niece. However I will agree that the darkness of this film is deceptive, very well hidden under all the cuteness and can point to more serious themes if you want to look at it that way. Grade: B+
Kiki's Delivery Service(1989)
: Another film that can serve as a good entry point for Ghibli newbie's is this coming-of-age story of a young girl about developing her confidence but is little lighter and less ambitious than Laputa. However let me tell you that of his 'lighter works'(Totoro, Kiki, Ponyo and maybe even Porco Rosso), I like Kiki the most. In yet another typical Miyazaki way, plot of his film itself is principle point of attraction – a 13-year-old girl has to leave her house and spend one year away as a mandatory part of her witch training before becoming a full-fledged witch. That just gets me instantly interested and I haven't even mentioned Jiji yet. If not for last 15-20 minutes of this movie; where I think it loses its focus a little in an attempt to give Kiki one final, big task before she can pass her test; I really like this film. Miyazaki's father was the director of Miyazaki Airplanes which produced rudders for the fighter planes during World War II. Miyazaki seems to have developed quite a fascination for aviation since his early years as it features quite prominently, in some form or the other, in many of his films including Kiki flying on her broom. Grade: B+
Porco Rosso(1992)
: Miyazaki also wrote every single one of the films he directed and in many cases also created Manga strips for them. Porco Rosso is one such film. In many ways, even this is quite a deviation from what we have come to expect from Miyazaki movies. Even though Fio can fit as a typical Miyazaki heroine, protagonist of this film is not a young female – Fio - but an adult male – Porco , a WWI pilot in 1930's Italy transformed into an anthropomorphic pig who now works as a bounty hunter. It also lacks the usual environmentalist tone of his films and is more about the code of honor. Once again, it is the final few minutes of this movie – the duel between Porco and Curtis – that diminish my overall opinion of it. Grade: B-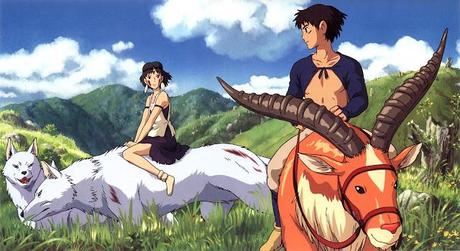 Princess Mononoke(1997)
: This film has a distinction of introducing Miyazaki to the western world. I don't belong to that world anymore but it was my introduction to him and to Ghibli as well; a start of love affair that has lasted since. I haven't even mentioned the best thing about Miyazaki's films that make them dearer to me than many other modern animated movies and that is they are traditionally animated. Even though this was the first film that Miyazaki used some kind of CGI for, he is believed to have drawn 80,000 drawings for this film himself. There is something about those drawings that makes them so much more relatable and personal and I love that way more than CGI. Mononoke is no doubt a great film with amazing characters and wonderful message; a natural double feature with Nausicaa but it is also much darker, more violent(one aspect of anime films that I am not most fond of though I will have more to say about it a little later). It also is the first animated film to win the Japanese Academy Awards and was the highest grossing film ever in Japan then. Grade: A-
Spirited Away(2001)
: I watched both Princess Mononoke and Spirited Away in pretty quick succession back in 2010 and that 1-2 punch quite literally knocked me. I really hoped to re-watch both before this post as I haven't seen them since but unfortunately, couldn't fit it in. To tell you the truth, I don't remember every single detail of either of the film but I definitely remember liking this one better than the former. The fact that I can remember this way more than Mononoke even after watching both in quick succession also supports my claim. I am usually an advocate of making a little denser, intelligent kids film and majority of Miyazaki's films are perfect example and off course, the hand-drawn animations in it make them more likable to me. Phenomenal financial success of this film also indicated that even people are ready to embrace them. Spirited Away not only promptly became the highest grossing Japanese film then and is his most financially successful film to date but went ahead and also became first anime film ever to win an Oscar for the best animated film. Grade: A
Howl's Moving Castle(2004)
: Miyazaki came out of his second semi-retirement after the original director of this film, Mamoru Hosoda, passed away suddenly to make most violent movie from his filmography but also earned his second nomination for the Best Animated Film of the year. I have noticed it on various occasions that, mainly in anime movies, I am turned off by excessively violence because most of them tend to lose their focus once all the fighting ensues. Maybe it's my Ghibli-toned sensitivities that play major part in it but many people consider Akira(1988) as one of the best anime movies ever and I really couldn't get into that movie. Same thing happened with Paprika(2006) when things start getting stranger and stranger. I will say that Howl wasn't that bad an experience but I wasn't much emamoured by all the destruction in it either.Grade: B
Ponyo(2008)
: After Porco and Cagliostro, this is Miyazaki's third film with Male lead. This is my least favorite of all his films and unfortunately not because one of them had to be. I actually found it to be quite childish, something I never thought I will say about a Miyazaki film. I liked Sosuke enough and his house on the cliff was amazing but I really couldn't get into it once the effects of Ponyo's metamorphosis start materializing. It goes without saying that I am really excited for The Wind Rises(2013) but I am happy that he is directing it because I really don't want his last film to be my least favorite film.
I really hope I like it too.
Grade: C
Previous Profiles:
David Fincher
Quentin Tarantino
Paul Thomas Anderson
Wes Anderson
Billy Wilder
Christopher Nolan
Sidney Lumet
Martin Scorsese
Woody Allen