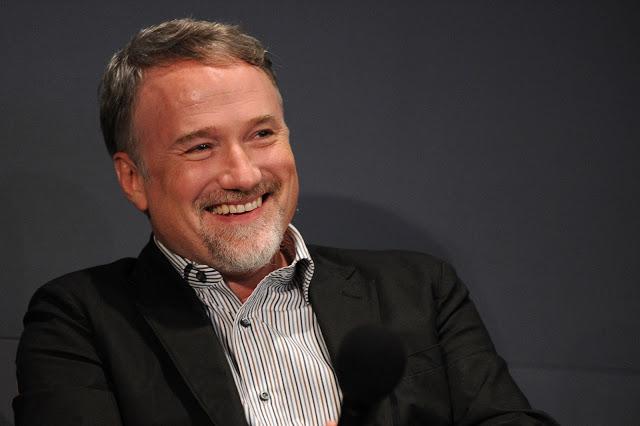 One of the best directors of his generation, David Fincher, is probably also the darkest, grittiest mainstream director with such a huge box office success and equally big fan following. Starting off his career working on many, many commercials, he subsequently moved on to the music videos and then on to films. I should be the last person to say anything about the music industry since I really don't know much and besides, I don't think I have actually seen any of the songs he directed but I will definitely say one thing - he has worked with some pretty big names. Over the last little over 20 years of his career as a film director, Fincher has directed 9 feature films, which I intend to talk about in this post and it should be safe to say that quite a few of them have been widely influential, defining movies of that era. If ever there was a 'Hall of Fame' of Hollywood, along with the likes of Christopher Nolan and Paul Thomas Anderson who also should have many, many more years of their career ahead of them for our sakes, David Fincher would be one name destined to be in it. With the Alien 3 that I saw last week, Fincher became the 5th director that I have seen all the movies of for this series. Let me get to his movies.
Alien 3(1992): Alien 3 was the last Fincher film I saw and at some level, I have to attribute this to couple of things. One, I haven't seen Alien(1979) or Aliens(1986) in almost two years now. Though I don't have any major complaints about either of the two, they just didn't blow me away like at least one of the two did, to many others. So I wasn't particularly interested in the third one and second reason; even big fans of the first two consider third to be an inferior film. Now if you are thinking I am going to say something redeeming about it, you are wrong. I am not but, well, I didn't Not like it either. The biggest compliment I can give is, I could easily get through it and the biggest complaint I have is I could just get through it. It was just an exercise in mediocrity throughout. It kept me interested but at multiple points, there was a possibility of elevating it to another level and every time, Fincher just lets it pass by. Looking at the rest of his career now, I couldn't help but wonder if Fincher is really to blame here? Or was there someone, something else behind the curtain, pulling the strings of then almost unknown guy, working on his first ever film? And then I read about Fincher walking out, even disowning it as His movie and multiple other problems during the production, and it all made sense. Grade: C
Se7en(1995): The fact that Fincher is not to blame for the debacle of Alien 3 becomes much more apparent after you have seen Se7en. It's almost impossible to imagine that the same guy can go from Alien 3, which has to be the unanimous choice as the worst film of his career, to Se7en, which I think should be a strong contender and a personal choice for the best film of his career, in just about three years; four is you consider a year studio was editing
Alien 3. I saw this movie for the first time about six years ago, without knowing anything about David Fincher. Back then, main draw-in factor for this movie was the way Seven was written and Morgan Freeman. When I sat back down about a year ago, I only remembered being a lot of blood and gore in it and off course, who the murderer was but there were a lot of unconnected dots. Still Fincher's darkest and creepiest film of his career with gruesome make-up and painstaking at
tention to the on-screen detail

worked just as much the second time around as it did the first time and this time, it was easy to see how influential it has been on the genre over the years. Next time I watch it again, it will be for Kevin Spacey. Grade: A+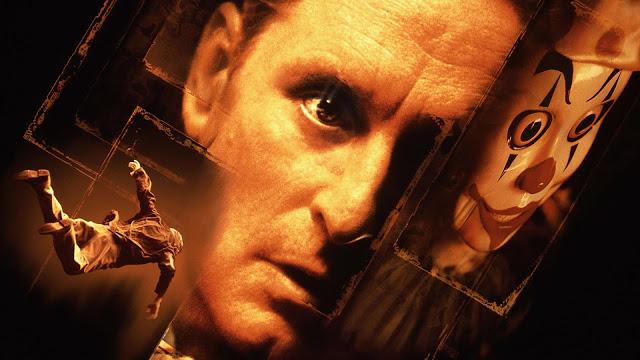 The Game(1997): I have a kind of romantic reaction to The Game which, if truth be told, makes it a little difficult to judge this movie objectively. This is the movie that made me fall in love with the city of San Francisco. Even now when I think back about it, first thing I think about is not the ending or the thrill of watching your whole life getting out of your hands in front of your eyes. It is how beautiful San Francisco looks in pretty much whole movie but particularly, Michael Douglas running behind Sean Penn on those steps in the night. When I first watched it I remember thinking 'how amazing will it be to live in such a city?' during that scene. But that's not the only thing that works here. I love the way he builds the suspense of their game, the way relationship between two brothers is developed, the way their characters are built up until the big reveal. And with the kind of ending it goes for, that's the make-or-break point of whole movie. If that ending works for you, you will love this film. If it doesn't, there is very real chance you might hate this movie as well. For me, it works exactly as it's supposed to. Grade: A
Fight Club(1999):
I am kind of scared to say this because I am pretty sure all hell will break loose when I say this but I don't really love Fight Club.
I have watched it a couple of times. I gave it another chance a couple of days ago
, before writing this and while I admit that it worked much better this time around than the first time I saw it, I still can't say that I love it. First time, I pret
ty much hated the final twist. Again, even that worked a lot better this time around. Judging by this, you can keep a faint hope that it will keep on getting better and better with every re-watch (which, by my track record, is once in a year or so) but I really doubt it really will climb any further than this. For now, I will accept that it is better than I used to think it is but it's still not what people will want me to say. There is a lot of craziness in it starting from the basic storyline and characters to editing and style,
even in the soundtrack
which makes it one of the defining films of the decade

. Most of which I like and I completely understand cult-classic status it has attained over the last decade but at some point it just gets too out of hand.
Grade: B+
Panic Room(2002): I don't much like the sound of it but I think Panic Room had the misfortune of being directed by Fincher. Don't get me wrong, I like this movie. I like the perpetual tension in it, the menace three villains possess and the feeling of constant anticipation of what this mother-daughter duo is going to do next paired with some good performances, including pre-Twilight Kristen Stewart. I also don't say this because he himself agrees that this is a footnote movie, something which is not terribly important because this is like Tarantino saying Death Proof(2007) has to be the worst movie of his career. Sure, Your career! That itself is setting the bar too high. The reason I say it had the misfortune is because in comparison to Fincher's other works and this comparison is unavoidable when you have the same person at the helm, it always seems to take a back seat it really doesn't deserve to be in. This could easily be the best film of some another director with less stellar body of work. Grade: B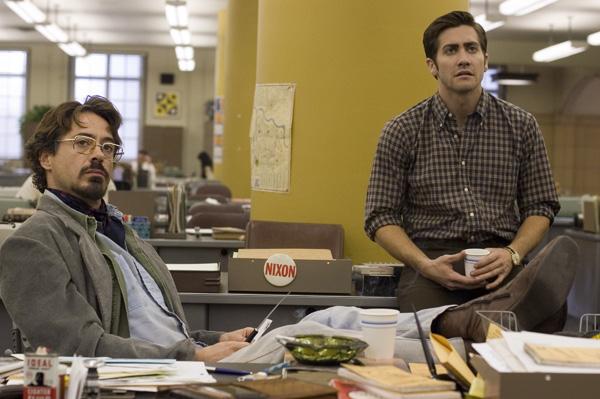 Zodiac(2007)
:
After taking a 5 year break, I have no idea why, Fincher returned with

another movie with a classic look of '70s San Francisco. However, there is nothing romantic about it now. This time he focused on case of Zodiac killer which many consider to be the most perplexing case of unsolved crimes in modern history and he handles it with such a diligence that Ro
bert Downey Jr

. will be more than willing to attest for. Zodiac is long, it's little slow in patches and it's painstakingly detailed but it is a thrilling journey that keeps you into it from start to end. Fincher already had some experience in handling serial killer subjects with Se7en but in comparison, he puts much more time and effort into letting us into the psyche of the characters, their motivations behind their actions like running behind this killer which everyone seems to have given up on than actual murders. Only thing that works against it is the ending. I know it is no fault of Fincher
that these murders were unsolved

, he is just showing the story as it is but I just can't get over the fact that they never find the
true identity of

one of the most notorious serial killer.
Grade: A-
The Curious Case of Benjamin Button(2008)
:
Next movie he did was his third collaboration with Brad Pitt
with this story of unusual person growing backwards. It made quite a splash that year with 13 Oscar nominations, eventually winning 3. Once again, there are many things to like in
The Curious Case of Benjamin Button

. In acting department, it is handled ably by the likes of Brad Pitt, Cate Blanchett, Tilda Swinton and
most notably Taraji Henson. It is good technically as well, especially make-up showing Benjamin's growth backwards and art direction, creating pretty much whole 20th century around. There are many moments that might touch you emotionally but this is where is starts to loose me. First of all, it is way too long and even slower for its length. For every moment that connects with me e.g. whole sequence with Tilda Swinton or his birthday postcards for his daughter, there is one more that I just doesn't work e.g. when he starts to walk for the first time. Moments like this
quite often take me out of this movie. This was another movie I made sure to watch again before I say anything here and once again, I would stand true to my original judgment.
Grade: B+
The Social Network(2010)
:
When it comes to being a cinephile, I am a late bloomer. I watched a lot of movie before but I started taking it seriously about four years ago. So even though I had seen Se7en before and heard a lot about Benjamin Button couple of years earlier during the Oscar race, in many ways Fincher's most drama-centered or least mystery-oriented movie, The Social Network was my introduction to Fincher and even Aaron Sorkin. This probably was the first movie I walked into knowing who David Fincher was and it was his movie and I loved everything about this movie. Fincher's superb direction,
his portrayal of social networking that has become so much prevalent these days,

Sorkin's gripping story and even more importantly his fast, snappy dialogues that grab you from the very first scene (For the record, that is as good a starting as you can hope for), all the actors even in the smaller roles that if I start naming, I can fill pages and pages with. Just Everything!! Inception(2010) is my favorite movie but I never saw it as an Oscar winning movie, that was The Social Network. The fact that it didn't, or more specifically David Fincher didn't win is something I don't think I will get over.
Grade: A+
The Girl with the Dragon tattoo(2011)
:
After doing two movies which relied much more drama, Fincher sort of went back to his roots, thrillers, with his next one. I went into this movie having read the book and seen the original Swedish movie. Even though I belong to the 'Original is better than Hollywood remake' category, that is not to say that I didn't like Fincher's take on it. I just like the Swedish version better. To me Rooney Mara's Lisbeth comes off more as icy cold, detached character whereas Noomi Rapace looked tough but vulnerable which is an important distinction, especially considering the next two installments of the book trilogy. Once again, I will admit that Rooney Mara probably was the best thing in the movie. She just wasn't what my impression of the character was.
Bringing Daniel Craig in as Mikael is one of the areas this remakes scores over original and another huge improvement would be the soundtracks
. Fincher does know his music well.
Grade: B+
Previous Profiles:
Quentin Tarantino
Paul Thomas Anderson
Wes Anderson
Billy Wilder
Christopher Nolan
Sidney Lumet
Martin Scorsese
Woody Allen