As India gears up for the much-awaited Christmas release of Professor Shanku O El Dorado (a story based on Ray's science mastermind Professor Shanku) the makers have pioneered the concept of AR (augmented reality) & VR (virtual reality) promotional technology to pay ode to the eccentric scientist.
This is the first time any production house in India will be using this technology as part of their film promotions partnering with technology company Andreal.
Augmented Reality & Virtual Reality are forms of technology where human beings get an experience of the virtual world created by the computer. While AR technology gives them a partial experience of the reality, VR technology completely immerses them in the virtual world, shutting them away from reality!
The 'Shanku Flipbook' which would be available across theatres & malls of Kolkata, Science City, Eco Park, is a 20-pager interactive book designed for kids. It is no normal book but made completely out of AR technology where the images from the trailer, comic strip etc. will come alive from the pages of the book when clicked with a 'Shanku app' (available on playstore). Also seen in the book will be a map from India to Amazonia, interactive games with Shanku & Nakurbabu, various inventions of Shanku coming alive through the screens of our phone!
Another interesting and unique aspect will be the 'Shanku VR experience'. A VR headset/gear will be available across theatres & malls of Kolkata, Science city, Eco Park which when worn by people will transport them to Shanku's laboratory where Shanku will be seen talking to them while moving around in his lab. This experience is so real that anyone wearing it will forget for a moment where they are located or what they are doing!
This AR & VR technology is a new chapter in the history of Indian film promotions and marks a landmark where for the first time apart from the shooting of the film an advanced technology is used during its promotions to engage the audience and gift them with something new this Christmas & New year!
It is also a bonus because the audience gets to experience a few 'real-like' moments with Professor Shanku right before the film releases!
SVF has always been known for bringing new forms of innovation to the audience when it comes to their promotional designs. In 2017 they created the biggest poster ever for their film Amazon Obhijaan beating 'Bahubali' to the game. 2018 saw them bringing in animal mascots and theatre installations with sound and light effects throughout the city for their film Adventures of Jojo. At the beginning of 2019, they introduced the concept of 'three-way vision' theatre standees for Vinci Da that was used for the first time in the history of Bengali Cinema.
Talking about this out-of-the-box experience, Co-Founder & Director of SVF, Mahendra Soni said: "Satyajit Ray gifted the Bengali readers a science genius who made some of the most brilliant and crazy inventions ever. Since this is the first time Shanku will be coming onto the big screen, we decided to gift our Bengali audience something larger than life, just like the character himself!"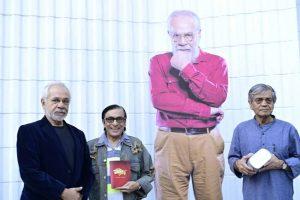 Elated and excited with this new form of promotion, Director of the film Sandip Ray goes on to say: "When my father created Shanku, he bestowed him with a technological understanding way ahead of his time. Therefore, many years later when we are bringing him alive on the single screen it is fitting that he can be experienced through some of the latest technology like AR & VR"
The 'Shanku AR Flipbook' and 'Shanku VR headgear', created with tech support from Andreal, will be available across in Kolkata from 13th December onwards. 'Professor Shanku O El Dorado', produced by SVF & directed by Sandip Ray starring Dhritiman Chatterji, Subhashish Mukherjee and others, releases this 20th December Nationally and in Bangladesh.