I always like to know what products bloggers and people with a large collection use up and repurchase. For me it's pretty rare that I'll repurchase something, I always have something new to try. It's only if I really, really love a product that I'll repurchase it. This year I've repurchased a few items, t

here are more that I would have repurchased if I'd finished them, no doubt they'll make the list next year.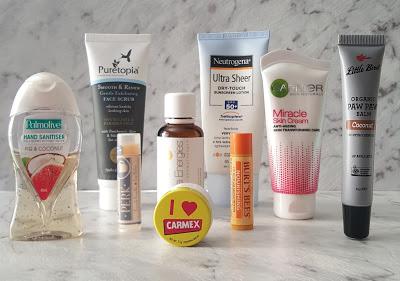 Subtle Energies Facial Blend -I call this my calm in a bottle, it's a product that

I will never be without

. If you are looking for a hydrating facial oil that smells like heaven and

absorbs quickly, this is the one for you.

You can read my full review here.
Puretopia Face Scrub - I'm on to my third tube of the Puretopia face scrub, it's gentle enough to use every few days and doesn't irritate my sensitive skin. 
Neutrogena Ultra Sheer Sunscreen - I am allergic to a lot of sunscreens, this is one of the few that I can use on my face without any irritation. I've got Tiger and my Dad onto it too. Dad refused to use sunscreen because it'd sting his eyes, now he happily uses his Neutrogena sunscreen every day. Tiger used to be covered in pimples because of his sunscreen, he hasn't had that problem since he switched to Neutrogena.
Crazy Rumors, Carmex and Burt's Bees Mango Butter lip balms - These are some of my all time favorite balms, I always have them in my collection.
Garnier Miracle Skin Cream - If you love Origins VitaZing you'll love this! I can see myself using Miracle Skin Cream all the time in summer, it's light enough to be layered and is undetectable on my skin.
Little Bird Paw Paw Balm - It's no secret I'm a multi purpose balm fiend, I have them stashed all over the house. Little Bird Paw Paw balms are awesome, they come in four lovely flavours, they're cheap and you can get them at the supermarket (Coles).
Palmolive Fig and Coconut Hand Sanitiser - I love these little bottles of hand sanitiser, they're non drying, smell great and are the perfect handbag size.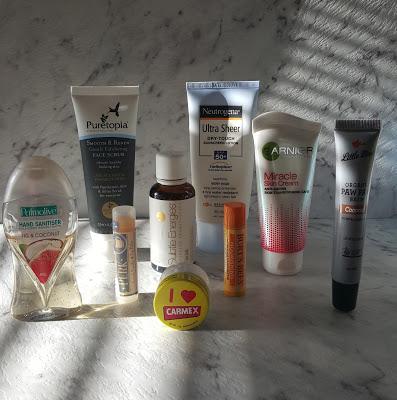 This is me trying to get artistic with the early morning light
What products did you repurchase this year?