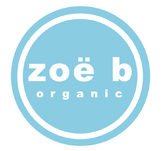 The other day I received a small box with several items from Zoë b Organic, a company that sells earth friendly products for children. I was expecting to review the biodegradable beach toys (bucket, shovel, and cups), but also found a teething ring and pacifier packed among the toys. When I first took out the beach toys I was surprised at how sturdy they were. Perhaps it was the fact that they are biodegradable combined with the images of cheap, flimsy pails from my youth (as well as seeing them line the shelves at the local supermarket), but the set from Zoë b Organic felt like it was built to last, ironic given that they are indeed designed to be fully biodegradable. As pointed out though on the FAQ section of Zoë b Toys' website, the toys are quite durable, which is evident from my first impression. The built-in handles, as opposed to a flimsy, "external" plastic handle, will not snap off and make for a more durable product.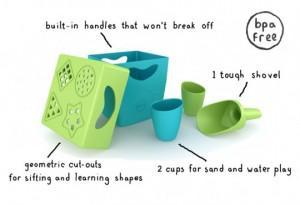 Unlike plastic beach toys which can take several hundred years to degrade, especially problematic for those toys left on the beach or washed away much like my last pair of expensive sunglasses, Zoë b Organic's beach bucket and accessories will naturally breakdown within 2 to 3 years. According to the FAQ page, the toys "are made with a biobased material that comes from American-grown corn. Specifically, this bioplastic from Mirel™ is made with PHA, a polymer produced by microbial fermentation of sugar.
"
Even though the bucket is biodegradable, it can withstand high heat, exposure to the sun, and is dishwasher safe. Instead, the toys will breakdown "in microbial environments, including natural soil and water, home composting systems, and industrial composting facilities."
Zoë b Toys were created in the cradle to cradle mold, considering the full life cycle of a product. The goal was to make a completely sustainable product, one that is "born from nature and ultimately returning to nature." The polymer created (PHA) is "different from the more familiar PLA, used for things like biodegradable drinking cups. PLA only biodegrades in high-temperature, industrial composting facilities—which aren't available everywhere." In addition to taking the beginning and end of the product's life cycle into consideration, they are made in the United States, which keeps jobs in the country, while reducing economic and environmental costs associated with shipping.

The beach toys retail for $19.99 and include a scoop, two cups, and a lid with shapes built in for sifting sand. The toys can be purchased at a number of stores and online retailers. For a full list, click here. Despite their higher cost, the durability of the bucket represents a nice value. After all, sustainability will not succeed if products are not durable as well. For more information on the beach toys visit Zoë b Toys' website.
As a follow up, this picture of a broken, flimsy shovel was taken at the playground where my son and I play with the beach bucket from Zoë b Toys.
[Image source]