I have not done many product reviews but here is one I have to share.  My friends at ProX Tee sent me a batting tee to review last season.  After trying it out myself with a few swings, I lent it to a good friend of mine, Coach Kevin Manero who is the head coach at North Penn High School and my former assistant.  I haven't seen it since.  He loved it so much he bought another one.  Because of that, I had him write the review.  I provided a link to their website below the review.  A link is on my FRIENDS page as well.
Since I started my baseball coaching career 12 years ago, I have been constantly trying new batting tees, looking for one that suits many purposes while also being durable and easy to use. As an English teacher, I guess I would say that the perfect batting tee has become my "white whale." Anyway…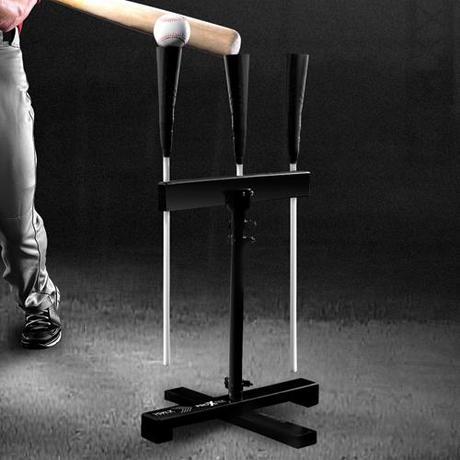 Tough to find a better tee then this one.
enough of that (I apologize if it caused uncomfortable flashbacks).
The Pro X Tee is, hands down, the best I have found so far. Many of the basic hitting drills we do as a team can be completed using the multiple functions of the tee, and the ease with which the tee can be converted from basic to complex is a huge bonus. When we are confined to  a small area inside over the winter and on rainy days, having this tee helps us to perform multiple drills in just a couple different hitting stations. Additionally, through the use of the winter, spring, and summer the tee has outlasted many we have had before in terms of its durability. The design of the tee stems along with the durable and balanced base gives it not only functionality but also extended life. In the past, we have used the types of tees made of the hard, endurance proven material, rather than the more typical black hollow rubber,  but those tees have shown to have their own set of issues with balance and with the tee stem over time being very difficult to adjust up or down .The ProX design combines the durability with ease of use and adjustment.
We do not over-complicate our approach to hitting and for the most part, the only thing we need is a simple, basic batting tee that is durable and easy to use – we have simple needs and I do not advocate making hitting more complicated than it already is. That said, the ProX enables us to be both basic, and to address individual players who have their own individual hitting issues. If there is one player who is coming around the ball, the ProX has a function to work on that. If a player is dropping his hands and extended  the distance of his swing, the ProX can address that as well. If a player is struggling with the pitch just below the knee caps and on the outer black that is always called a strike, yes – the ProX can simulate that pitch as well. If a player is not exploding through the zone, and we want to use the deflated soccer ball drill off a tee, the ProX can handle that too with its multiple sized tee stems.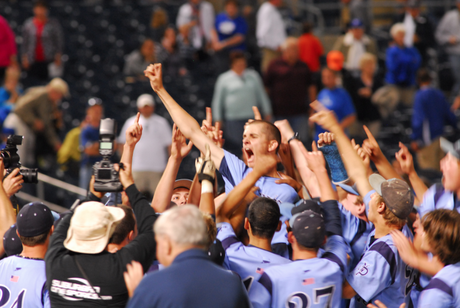 2013 PA 4A Champs
Bottom line, the tee serves many hitting needs for many levels of baseball, and while I cannot do this often, I certainly can endorse the quality of the ProX tee. We were fortunate to have a very successful high school baseball season in 2013, and while I can't say that the ProX got us a championship, I can say that it certainly gave us a tool to work on a lot of things before and during the season that certainly helped our players become more prepared.
I still believe that success lies in dedication and work ethic , and a hitter can still become a star by simply taking an old street cone and using it as a tee – but if a baseball program or an individual player is looking for something with many functions that are easy to use, ProX has that.  So, when Im not prepping a lesson on Moby-Dick which has no shortage of meanings, but instead planning a practice – I know that with the ProX at our disposal there will be no shortage of drills on the agenda that day.
Coach Kevin Manero
North Penn High School, Lansdale, PA
2013 Pennsylvania 4A State Champions
Tomorrow's post: Exercise bands and routines