Hello blogger buddies! How are you doing?? Great?? Good!!!
Today, I am writing a review on the Sunsilk Co-Creations Perfect Straight Shampoo and Conditioner. Actually, these products were launched way back, may be earlier this year as far as I can remember. But what the hey?!! I am still writing a review to share my experience with you guys.
I happen to love my tresses a little too much. I have naturally straight and silky hair, but they just don't stay put. They have got to fly helter-skelter, making me look like a mess. That's one reason I never let my hair out of the pony-tail while going to college. I have never used any straightening equipment till date. I was skeptical about using a straightening shampoo, fearing damage 

to my hair. But curiosity got the better of me. :D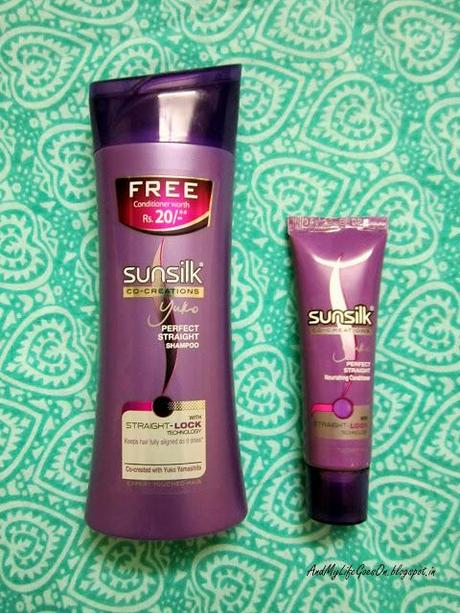 So, I finally grabbed a bottle of Sunsilk Perfect Straight Shampoo off the rack at the supermarket yesterday. I bought the smallest bottle available and along came a free unit of Perfect Straight Conditioner. I wanted to see what kind of effect this shampoo would have on my already-straight hair. I was expecting the shampoo to help me pin my hair straight. Let us see what it did to my hair! But, before that let us take a look at the product specifications.
About the Sunsilk Perfect Straight Range
The Perfect Straight Shampoo
The Sunsilk Co-Creations Perfect Straight Range is created by Yuko Yamashita. The Shampoo came in an attractive purple bottle with a flip cap. It is meant for daily use, so it is comparatively mild than the other Sunsilk Shampoos. I ended up using around 12 ml of shampoo since this one lathered a bit less. The fragrance is extremely pleasant and refreshing. The consistency is like any other shampoo.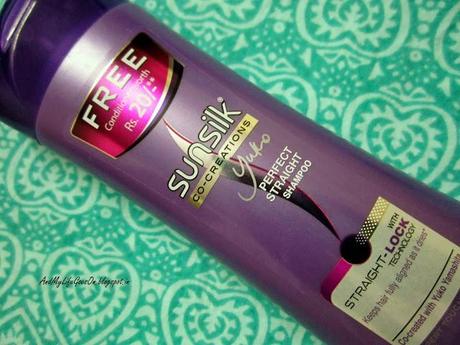 Price- 56 INRQuantity- 80 ml
The Perfect Straight 
The Conditioner came in a attractive purple tube. It smelled equally sweet. But again, too mild. I ended up using 10 ml of conditioner, which is way more than what should be used on medium length hair. Consistency and color looked like any other conditioner.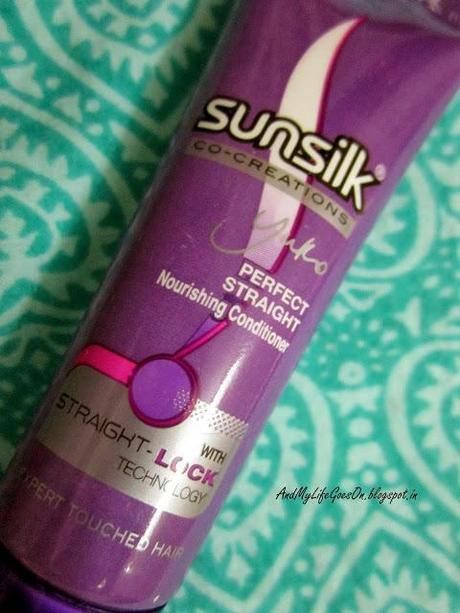 Price- 20 INR (This one came free with the Shampoo)Quantity- 20 ml
The verdict
I did not tell anyone at home that I have used a new product. I waited for them to notice the change, if any. And my Dad and Sis did notice it! They said my hair look better in terms of staying pinned and neat. The instructions on the bottle say that the hair must be completely aligned as they dry. My hair definitely didn't become straighter, but the shampoo helped me make them stay in place. It also eased the little traces of frizzes.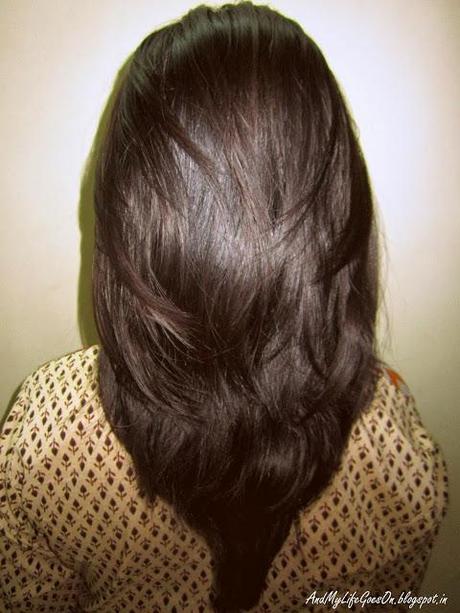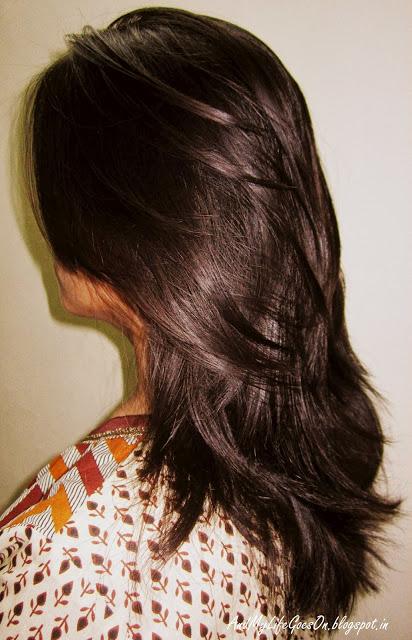 This shampoo worked more like a hair-spray. It made my hair stay put for longer, which also made them a tad bit dry to touch. I suggest you massage your hair with hair-oil at least 1 hour prior shampooing. I didn't do it this time, so that might be the reason behind the slight dryness of hair.
And the below pic was clicked earlier today. My tresses remained under total control.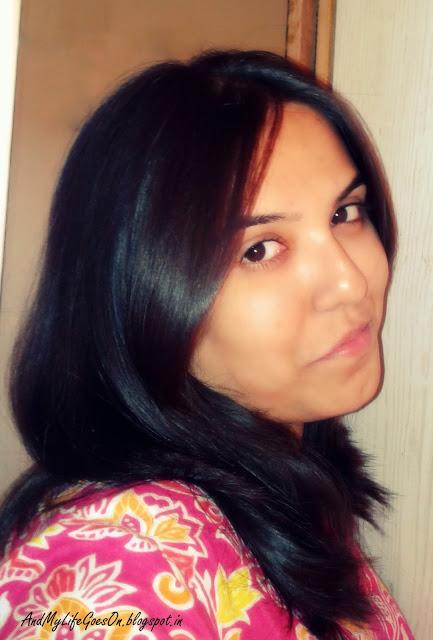 The Pros:
AffordableSmells awesome! Believe me, I have been sniffing my hair every now and then since yesterday.Beautiful packagingHelps remove frizzes effectivelyMakes hair shinierHigh on quality
The Cons:
Very mild. You may need to use more quantity of shampoo and conditioner than usualMade my hair a little dry. Conditioner didn't seem to help much on maintaining the texture. May be a massage next time would help
Rating: 4 out of 5
In a nutshell, girls with thick and curly hair really won't benefit much from this product. The ones with unruly wavy tresses may find some relief. And the rest like me, your straight hair would become more manageable. Overall, an excellent and value for money product. Totally met my expectations!