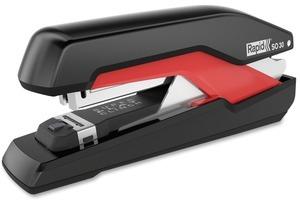 My husband works from home, so he has a home office that is well-equipped with office supplies. He's very particular about the products he uses because he wants to be able to work as efficiently as possible. So, he was excited to try out the Rapid Omnipress 30 Stapler from Shoplet. It has the number "30" in its name because it staples up to 30 sheets of paper together, and even reduces the paper stack by 40 percent. But even more importantly to him is the "feel" of the stapler. The Rapid Omnipress 30 Stapler is very lightweight, making it ideal for use by the hand (especially good for those with arthritis or other hand issues), and it staples with barely any effort. With many staplers, it seems like only a bodybuilder can get them to work, but that isn't the case at all for the Rapid stapler. It's also easy to load from the top and hasn't jammed for us yet!
The Rapid Omnipress 30 Stapler has become my husband's new favorite stapler. I had it on my desk when it first arrived, and he stole it from me! It's been in his office ever since. He even likes the sleek black and red design. This stapler is ideal for all ages, and for home or office use. Get rid of your old dinosaur stapler and pick up a Rapid stapler instead!
Shoplet has a wide variety of Rapid products, like the stapler featured above. They also have a huge selection of office supplies, cleaning supplies, and medical supplies. They even carry office furniture! In fact, they are the #1 e-tailer of business and office supplies. I hope you'll stop by Shoplet today for all of your home, office and school supplies. You can also visit them through the following sites below:
Facebook: https://www.facebook.com/Shoplet
Twitter: @Shoplet
Pinterest: https://www.pinterest.com/shoplet/
Blog: http://blog.shoplet.com/
Youtube: https://www.youtube.com/user/Shoplet
Instagram: https://instagram.com/shoplet/

Disclosure: I received complimentary product samples to facilitate my honest review. All opinions are 100% my own.