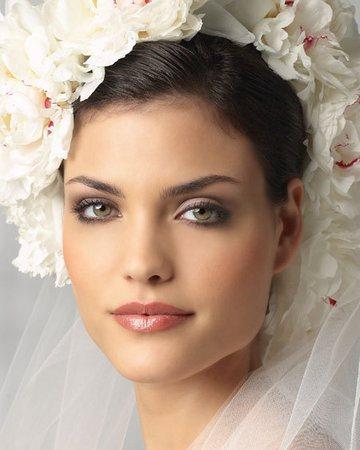 Hi Gorgeous! The wedding day is not only about getting married. It goes without saying that every bride and groom also wants that day to be filled with a lot of laughter and good time for everybody who attends the ceremony and the reception. So, the whole folklore about the wedding day plays an important role in the overall impression this special day leaves on everybody who witnesses it. Brides and grooms also have to take good care of their appearance and outfits, too. While grooms have an easier task in front of them, brides have so many options that many of them get terribly confused and many even bug, not knowing what to do. To make sure you do not become one of such brides, you need to deal with some important things in advance. One of them is definitely the makeup choice for that sacred day. This step has a double effect – the first being the way you are going to look on the very day and the second one what your wedding photos are going to look like.
Spot the weak spots
When we want to make something about us perfect, we need to know what the flaws are. To have a perfect wedding makeup, you need to know your weak spots. For instance, you know that your skin get easily irritated by some eyeliners or mascaras. Imagine a situation in which you try a new makeup product only for the wedding and it turns out that your body does not approve of it. The last thing you want is having an allergic reaction on your wedding day. So, to avoid that, never make experiments on the wedding day, but make a through preparation before it and try all sorts of combinations.
Also, some people have skin that reacts to stressful situations. While wedding is generally a happy occasion, it demands a lot of effort, which might cause an additional amount of nervousness in many people. As an end product, many women end up with a skin breakout. If something like that happens and you should know if you are prone to it, go and see your dermatologist. He or she will know what the most efficient cure for that is.
Makeup contrasts wedding dress
The wedding makeup should be somewhat different from everyday makeup options. Several reasons justify such a claim. First of all, you want to look different that you do on any other day. It is probably a once-in-a-lifetime experience and it is normal for brides that they want to shine and glitter on that occasion. Secondly, your outfit is more elegant and official, which requires a more solemn makeup, as well. Finally, the makeup is that final cut to the fairy-tale-like wedding story and it is going to stay as an important feature of your wedding photos.
In order to reach a fine relation between the light and dark for the wedding photos, the makeup should be in contrast to the wedding dress. Since most of the dresses are white or bright, the makeup should follow charcoal and greenish shades, especially if the reception is taking place outside. For parts of the world with a lot of sunny days, like the Mediterranean or Australia, the contrast between the makeup and the dress is going to be even more visible on your wedding photos. From having photo sessions in Sicily or Corsica to wedding photography Melbourne, a smooth and elegant contrast between the makeup and the outfit will make you really stand out.
Fine base for chic photos
Makeup can be applied in numerous ways, but some steps should never be skipped when preparing for a wedding and the belonging photo session. The first of them (in every sense) is a fine foundation. If you save money on that, it might turn out that the one you have chosen for that day is of bad quality and the whole makeup conception will literally fall apart. That is why the foundation and the blusher and the eyeliner need to be products whose quality has been proven many times. Even if you go to a makeup pro, always check what he or she is going to use. By having insight in all the aspects of your makeup, you will have a peace of mind and enjoy your special day without any fear.
Photo Source: Pinterest
Guest Post by Ann, be sure to check out her blog http://www.beautymakeuponline.com
Gorgeous, thoughts? Let me know in the comments.
Stay Gorgeous!