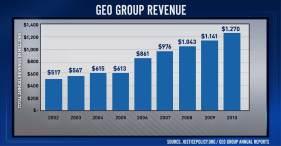 By Alan Bean
There's nothing like a good scandal to get people talking about public policy issues that normally fly under the radar.  Take private prisons, for instance.  Like most people, Mary Jane Saunders knew practically nothing about the private prison industry until an alumnus of the school offered Florida Atlantic University a cool $6 million if they would name their football stadium after GEO group, one of the largest private prison companies in the world.  Fortunately, students at FAU knew more about private prisons than president Saunders.  They didn't want their beloved Owls playing in a football stadium named after a company associated with blatant human rights abuses.   
Now the issue is gaining traction in the Palm Beach Post.  Today's paper features a scathing editorial suggesting that president Saunders has some 'splainin' to do.  The paper also printed a self-serving piece of commentary from a GEO group executive, but the editors wanted readers to identify GEO's spin for what it is:
On Tuesday, Dr. Saunders said she "didn't know everything" about the Boca Raton-based private prison/detention company. In fact, she appears to know almost nothing, except what she has heard from GEO. Since a GEO public relations executive reportedly deleted critical information about the company from its Wikipedia entry after the stadium deal became public, and since GEO did not confirm or deny reports of that deletion, the company is hardly a credible source.
It is particularly gratifying to see more attention paid to GEO's association with the human rights meltdown at its facility in Walnut Grove Mississippi.
One issue Dr. Saunders must address is GEO's management of the Walnut Grove Youth Correctional Facility in Mississippi. In March 2012, a federal judge approved a settlement of a lawsuit that had alleged deplorable conditions at Walnut Grove. An investigation revealed "pervasive violations of state and federal civil and criminal law and a wholesale lack of accountability by prison officials."

GEO says the conditions existed before it took over management in August 2010. Actually, GEO had control of Walnut Grove for 18 months. In his order, the judge said, "State officials repeatedly failed to monitor the contracts with GEO and simply rewarded the company by either extending or offering new contracts, or by not revoking the existing contract despite 'systemic, egregious, and dangerous practices exacerbated by a lack of accountability and controls.'"

Walnut Grove, however, is just one controversy involving GEO's management. The Palm Beach Post listed several in a story last August. The company's defense has consisted of recycled talking points that don't directly address the individual allegations. Since FAU has only its own talking points, some of which sound like GEO's, the university has its own credibility problems in defending the stadium deal.