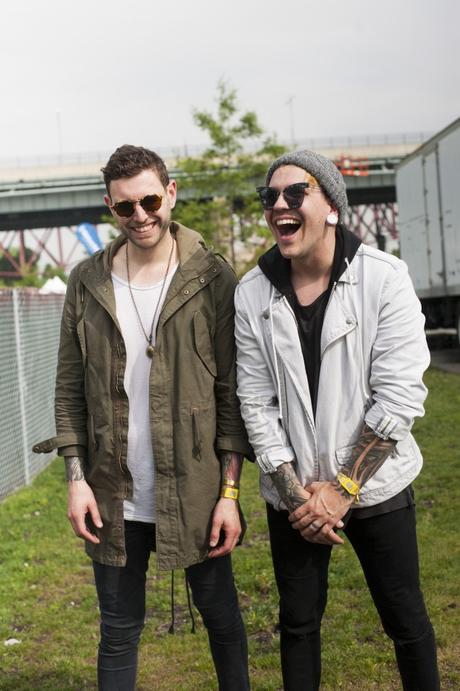 The guys of Priory, Brandon Rush and Kyle Sears, are incredibly charming and silly. They bounce off of each other in such a natural state, it's no wonder they write and perform music together so well. I had the opportunity to chat with them at Governor's Ball a few weekends ago to hear about their go-to songs for certain times in their lives. Enjoy a few songs on their life playlist.
Spotify:
What song do you listen to before going out?
Kyle: "Trainwreck" by Death From Above 1979
Brandon: I listen to that ODESZA album a lot.
Kyle: You know you can't just call out one song from that record [ODESZA], you have to think about it as an entire movement.
What song gets you in the mood?
Brandon: "Let's Get It On" by Al Greene
Kyle: I'm gonna get real cheesy here and say "Lovers Rock" by Sade. The Weeknd record can be pretty sexy, too.
Brandon: Anything by Bread, honestly, is sexy.
Kyle: (To Brandon) Really? Is sexy?
Brandon: Yeah! I want someone to go look up Bread.
Kyle: "Baby Beluga" by Raffi (jokes).
Brandon: Oh Raffi! That'll get you going.
What would you say is the song of your childhood?
Kyle: "Baby Beluga".
Me: Ha. So the song of your childhood is the same song that gets you going?
Kyle: Yeah there's something twisted and Freudian about that.
Brandon: My mom used to always play "Yellow Submarine" all the time.
Kyle: My dad was a weird jazzer. He had me listening to Mahavishnu Orchestra and Birds of Fire, Jazz, John McLaughlin
Brandon: We listened to a bunch of that a couple weeks ago.
Kyle: Yeah like Passion, Grace, and Fire is this album by John McLaughlin, Al Di Meola and Paco de Lucía. Like the three questionably best acoustic guitar players on the planet. The Mahavishnu Orchestra is a little hard to digest because it never resolves.
What song is your guilty pleasure?
Brandon: Raffi "Baby Beluga"
Kyle: (Laughs) You know, I think you could bring everything in our musical career back to Raffi. That and the Barney Theme Song. It was all about being image conscious. You know if you're a purple dinosaur and you want to go out on the town, you're not going to be liked by everyone. You're going to be judged because you're different.
Me: How often do you listen to the Barney song now?
Kyle: Sad to say not as much as I used to.
Brandon: (To Kyle) I think you're down to 2-3 times a week now.
What song helps calm you down?
Kyle: Neil Young "Heart of Gold". To be honest, it's my favorite song of all time.
Brandon: Any Seals and Crofts song will calm my soul.
What song will always make you cry?
Kyle: I feel so pretentious when I say this stuff, but I'm going to say it anyways. Bill Evans' "Symbiosis", Second Movement. I wouldn't say it makes me cry every time, but I did cry to it. I got emo to it. It wasn't a full on blubber, I just got in an emotive state.
Brandon: This is weird, but this Manchester Orchestra song. The main track of their album. I was watching a video on youtube and I got teary-eyed watching it. It just had these guitar changes that blew my mind.
What's your favorite song of the moment?
Brandon: I kinda like that "Bad Blood" song by Taylor Swift. I just saw the video for the first time. It's like an off-time beat, which I think is rad for her to do.
Kyle: My favorite song right now is…I don't know. I've been listening to a lot of electronica. You know what I'm in love with, I'm in love with the new Twin Shadow record. The song with the weird samples in the beginning, I think it's track 10. That whole record is beautiful.