TAKEAWAY: Who would have guessed it?  A printed "version" of The (Occupied) Wall Street Journal gets distributed during one of the Occupy Wall Street protests. So members of the Google generation turned to ink and paper to make a statement? Surprise.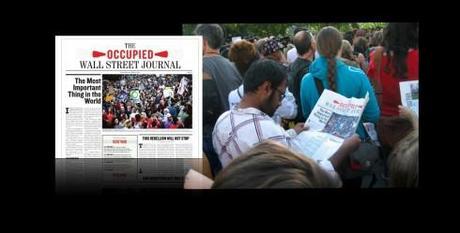 For those who may not be following those stories, Occupy Wall Street , is a series of protests that started in New York City September 17 about the economic situation in the United States.  Since then, the protests have moved to other cities. Only last week, my own city had one of those, called Occupy Tampa.  In their own words, the protesters state that "The one thing we all have in common is that we are the 99% that will no longer tolerate the greed and corruption of the 1%. "
As a point of clarification, I do not have any personal involvement in these protests, and my reason for mentioning it today in the blog is strictly because of my surprise to read that the protesters have distributed a printed newspaper to those in attendance.
Yes, a four-page broadsheet, professionally put together, not stapled or pasted with glue.  It is, in fact, a clean looking newspaper with no resemblance to its inspiration, The Wall Street Journal, lots of white space and more of a weekly or magazine look.
However, I am absolutely surprised that a protest attended primarily by the relatively young, where they are making good use of social media, and exploiting all that the Google generation has grown up with, would turn to a printed broadsheet newspaper to present information.
In essence, what we see here is the coexistence of various media.  Information is passed around in a variety of ways, and, I , for one, am very happy to see that paper and ink have become a part of the process. By the way, two isses of the Occupied Wall Street Journal have been printed already.
Of related interest:
Wall Street Protesters Have Ink Stained Fingers
http://www.nytimes.com/2011/10/10/business/media/wall-street-protesters-have-ink-stained-fingers-media-equation.html?_r=1&ref=business
Occupied Wall Street Journal: Issue 2
http://www.breakingcopy.com/occupied-wall-street-journal-issue-2-pdf
Download pdf version of Occupied Wall Street Journal here:
http://www.scribd.com/fullscreen/68041981?access_key=key-2bz013r79s3ur26g6wcg
TheMarioBlog post #876