This is the weekend edition of TheMarioBlog and will be updated as needed; next blog post is scheduled Monday, Sept. 3—when I will be reporting from Kiev, Ukraine at the WAN IFRA 2012 Congress


TAKEAWAY: It is a celebration of print everywhere we turn this week, it seems. Here are three items to prove it!
Monocle Radio: new show The Stack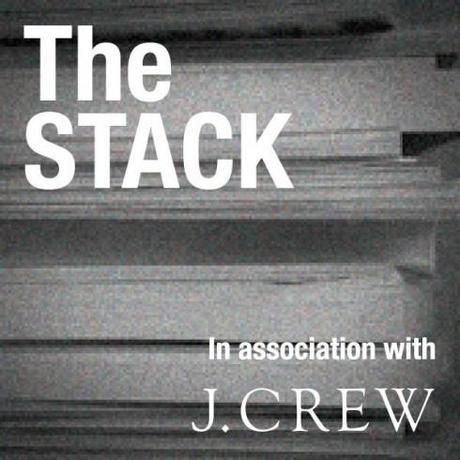 First, the announcement from Tyler Brulé that starting September 1, he and his Monocle Radio team are launching a new show on Monocle 24 called The Stack. This one hour show will celebrate the print media industry. It will run on Saturdays at 10am UK time and will be presented by Tyler Brulé himself.
"We plan for The Stack to be the coziest and most intimate program of the M24 line-up - like a seamless conversation among friends and colleagues around a coffee table stacked with an interesting mix of print. The Stack will be lively, provocative and take a leadership position when it comes to modern media," writes Dawn Trump, a Monocle producer in London.
Each show will feature a special interview with an industry leader.  In typical Monocle tradition, the program will be engaging, up to date, in depth and, with Tyler doing a lot of the interviews, definitely entertaining and insightful.
I am honored to be one of the first invited guests.
Bloomberg's glossy for conventions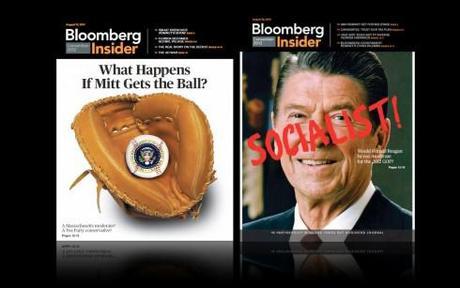 Bloomberg on Monday
%0A">
%0A">
%0A">
%0A">
%0A">
%0A" title="launched">launched  a new glossy magazine, Bloomberg Insider, that runs for the duration of both the Republican and Democratic National Conventions, and features exclusive stories by staffers from various Bloomberg divisions.
Insider editor Tim Franklin was quoted saying:
It's one thing to have a Web site or an app; it's another to put a printed copy under someone's nose," he said.
Very true, and I am sure Tyler Brulé would love to hear that.
The Washington Post at the conventions, too
Third, The Washington Post publishes a daily special convention edition for distribution in Tampa at the Republican National Convention.  It will do the same next week when the Democrats stage their convention in Charlotte, North Carolina.
(Images to come later today)
Sign up to get information on my new digital book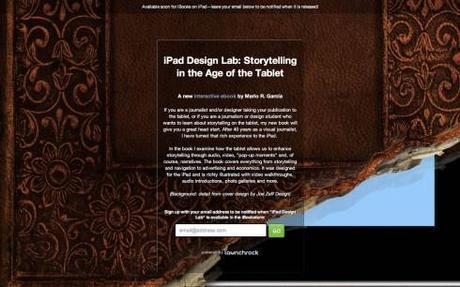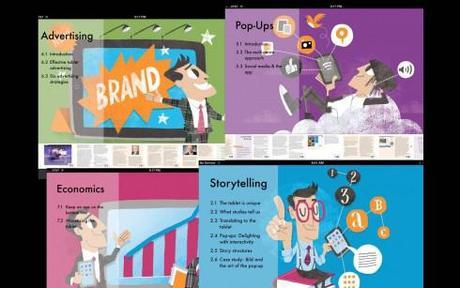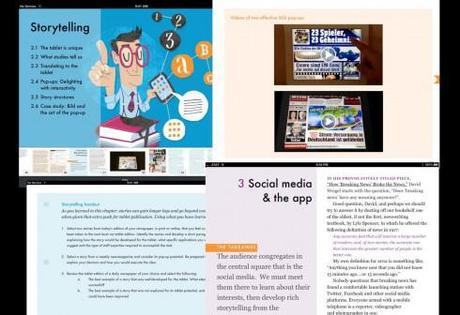 Assorted screens from the book: top, chapter openers all of which are color coded and carry illustrations by Luis Vazquez, of the Gulf News of Dubai; second image, opener of Storytelling chapter, and two inside screens.

As we get closer to publication date for The iPad Lab: Storytelling in the Age of the Tablet, we are now set up so that you can give us your email address and you will automatically be informed when the book is ready for download.
I admit it is an exciting time for us at Garcia Media and for me personally, as my first digital, interactive book, The iPad Design Lab: Storytelling in the Age of the Tablet, gets much closer to publication.
Now you can leave your email address so that you will be updated and informed the moment the book is read for download.
As I review this final version of the book—-is it ever final, especially with a digital book that can be easily updated?—-I am happy with what I see, the result of 8 months of hard work, assisted by my very able co pilot Reed Reibstein, who has edited and art directed the book.
The book's audience is anyone with an interest in tablets—-including people NOT directly involved in the media but who use the iPad and would like to know more about the thinking that goes behind getting stories, features and visuals into the new platform.
The premise of this book is that the emphasis should be on storytelling.  But we know that most of the news apps today emerge from the content that is published in their sister print publications.  My book aims at describing how this content can be adapted especially for the tablet, where multi sensory, interactive experiences are possible.
As such, the book is ideal for practitioners of our craft at every level, from reporters, designers and editors, to publishers and managers.  At the same time, the book is especially crafted to be a college textbook and companion in any number of university courses, from writing/editing to design and even business courses.
I hope you share our excitement. I urge you to leave us your email address so that you can be kept updated about publication date:
Simply go here:
comingsoon.ipaddesignlab.com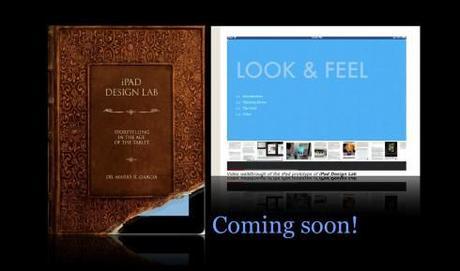 Video walkthrough of the iPad prototype of iPad Design Lab
SPD

: Speaker Series Begins with "News You Can Use

"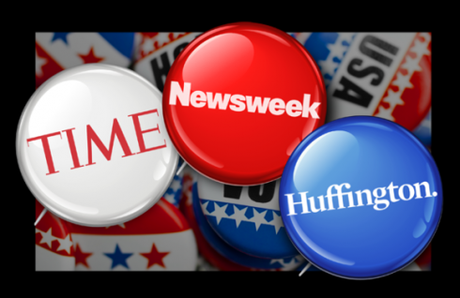 (Joe Zeff Design Illustration, courtesy of SPD)

Tickets are now available for the Society of Publication Designers' first Speaker Series event of the fall, "News You Can Use," scheduled Sept. 10.
For more information:
http://www.spd.org/2012/08/speaker-series-begins-with-new.php
SND

Scandinavia Space 2012 conference

Still time to get a spot to attend the SNDS conference in Copenhagen, Sept. 27-29;

For more information:
SNDS workshop ever. Read all about SPACE 2012 here:

http://snds.org/get-your-own-space-guide/#more-1852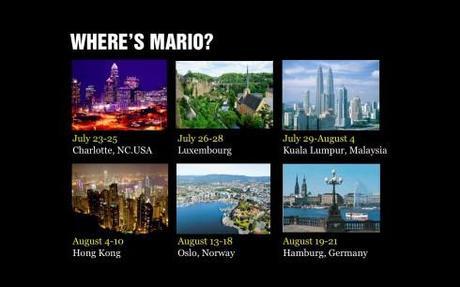 Mario Garcia's upcoming speaking engagements: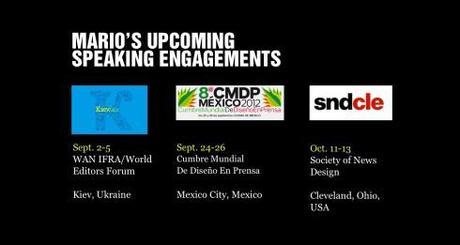 WAN-IFRA World Editors Forum, Kiev, Ukraine, Sept. 2-5
http://www.wan-ifra.org/events/64th-world-newspaper-congress-19th-world-editors-forum
Cumbre Mundial de Diseño en Prensa 2012: Mexico City; September 24-26
http://www.cmdprensa.com/mx2012/
SND (Society of News Design) Cleveland; Oct. 11-13
TheMarioBlog post #1087