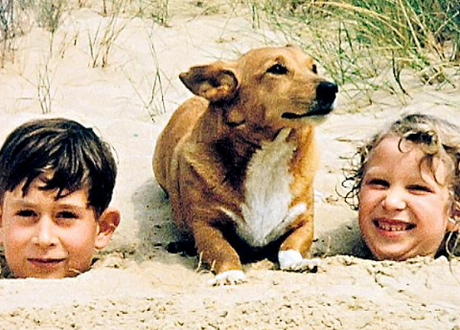 Prince Charles and Princess Anne, buried in the sand: From the footage released by Prince Charles
The background
The Prince of Wales has released some hitherto unseen family footage of the Royal Family larking about on holiday as part of a tribute to his mother over the Diamond Jubilee weekend. One of the films shows Prince Charles and Princess Anne, in 1957, at the beach on the Sandringham Estate in 1957, being buried up to their necks in sand by their parents. He also describes watching his mother practicing wearing her crown for the Coronation – whilst he was in the bath. The film will be shown in a BBC One documentary, A Jubilee Tribute to the Queen, and will give some insight into the family's private matters. Prince Charles points out that the Queen has opened Parliament 59 times, and that two of her Prime Ministers hadn't even been born when she came to the throne. He praises her continuity in a time of great change. Watch part of his tribute below.
"The Diamond Jubilee gives us the chance to celebrate with pride all that the Queen means to us — whether as a nation or as one of her children," says the Prince of Wales in the programme.
Keen amateur film-makers
Prince Charles, said Gordon Rayner on The Telegraph, is "instantly recognisable", though his sister "has yet to develop the Windsor family traits." The Queen and the Duke of Edinburgh, he said, have "long been known as amateur film-makers," shooting hours of footage on holiday.
Who buried them?
You can't be sure who buried the heirs to the throne in the sand, said Valentine Low in The Times, but since their father is the only other person there, there's a "short list of suspects."
The Prince of Wales' tribute to his mother