Are you dreaming about Southern California's sand, sun, and surf? Experience it in three basic steps:
1. Discover the greatest attractions of three counties' most prized beaches below.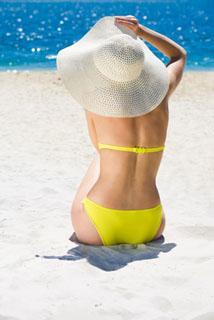 2. Decide which featured Swimsuits Direct fashions to order online.
3. Meander down the picturesque So Cal coastline to your favorite destinations for tons of fun.
Shopping and Packing Tips
Stock up on Swimsuits Direct swimwear for your chosen beach destinations so you'll always have clean, dry extras. Take multiple options for various purposes like sunning, surfing, dipping, and diving. A rainbow of solid shades, color blocking, and subtle to bold patterns will let you express your fashion sense and vacation personality.
If you're looking for a plus-size bathing suit, check out Cole of California two-piece styles. Tankinis with straps provide secure coverage for water and sand sports. Strapless bandeaukinis are fine for tamer lounging and swimming. Search our women's activewear section for summer pants. Slip them over swimsuits to protect your legs from the sun and as handy cover-ups for popping into casual shops and cafes. Our Kenneth Cole women's line offers assorted versions to accentuate your cleavage. Consider a bustier or push-up tankini, one-piece swimsuit, or two-piece stunner for an alluring California beach look. Choose skimpier separates for a sexy tan, the best vacation souvenir.
Los Angeles County
El Matador Beach: Skip the Los Angeles chaos to enjoy this magnificent Malibu locale. Schedule excursions for low-tide times. Follow the trail down the bluff's face through uniquely eroded formations. Then descend stairs to El Matador Beach. Explore intriguing caves. Trek to secluded coves and hidden nooks to bask in the wondrously romantic atmosphere. Savor picnic lunches or sunset dinners on a blanket.
Santa Monica Beach Pier: Mild waves make this famous location a prime choice for swimming, body surfing, and body boarding. Seaside fun abounds beyond the stunning blue ocean. Play beach volleyball. Stroll along the legendary 1909 Santa Monica Pier for free. This historic boardwalk's aquarium, thrilling theme-park rides, festival food, shopping, and spectacular sunsets captivate multiple generations.
Venice Beach: Sun-drenched sand and waves encourage tanning, swimming, surfing, windsurfing, parasailing, and kiteboarding. Ocean Front Walk hosts a must-see freak show. Weirdly wonderful street entertainers include barefoot sand sculptors, preening weightlifters, trash-talking hoopsters, and philosophizing artists. The concrete Venice Beach boardwalk also features shops, fast food, and flea markets.
Orange County
Crystal Cove State Park: At this secluded beach, explorations span from the underwater park's coral reefs to over 2000 wooded acres. Coves and tide pools delight year-round tourists. Rangers advise visiting Crystal Cove during winter's lower currents for clearer aquatic-life viewing. The park's canyons and ridges feature 23 plus miles of horseback-riding, hiking, and mountain-biking trails, many over steep rocks.
Laguna Beach: This fashionable and culturally rich town's surreal beauty surrounds an impressive strand with calm, cool water. Warm sparkling white sands invite volleyball, strolling, and unwinding on crowd-pleasing Laguna Beach. Oceanfront bars and restaurants offer lively and convenient. Venture farther from the beach into Laguna's downtown area to marvel at its extensive art scene.
Newport Beach: For decades, swimmers, surfers, sunbathers, trendy millennials, and families have enjoyed this spot's coastal charms. Attractions include delightful water and silky sand between Newport and Balboa Piers, a ritzy harbor, chic shopping district, and extravagant seaside bungalows. Watching a vivid sunset, you can almost hear the Beach Boys singing their nostalgic hits.
San Diego County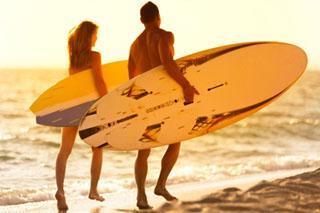 Coronado Beaches:
The opulent Hotel Del Coronado and its sandy shoreline date back to 1888. Visit Coronado Central Beach without being a hotel guest. Relish swimming, bodysurfing, boogie boarding, sand sculpting, and tide pooling behind grand Ocean Blvd. homes. Whale watching is popular December-February. North Beach lures morning surfers. Unleashed pooches frolic feely in Dog Beach's surf.
La Jolla Cove: Escape hectic San Diego for a quiet oceanfront community. Soaring sandstone cliffs flank this tiny sandy crescent, Southern Californian's cherished jewel. Sights are equally glorious above and below water, thanks to wildlife preservation efforts and 30-foot snorkeling and scuba-diving visibility. Other La Jolla attractions include wine tastings, outdoor eateries, and farmers' markets.
Moonlight State Beach: Find this all-ages hangout that inspires sunbathing, swimming, surfing, and volleyball in San Diego's North County. The shoreline's gradual slope ensures safe wave hopping. A friendly vibe makes Moonlight State Beach an Encinitas gem. Families enjoy the playground, grassy park, snack bar, and picnic facilities. After dusk, couples can cuddle around fire pits to wish on moonbeams.