It's great to start skiing at an early age - and as families head to the slopes for the February half term weeks, it's clear that a lot of parents recognize that.
However just because you didn't start young doesn't mean that you can't learn later in life. Don't let preconceptions about what you should or shouldn't be doing at a certain age stop you enjoying yourself - that's what we believe - and if you want to learn to ski in your 40's, 50's, 60's or later who's to stop you except yourself?
So with that in mind we asked Lynne Stainbrook, independent ski instructor based in France's Grand Massif, for his thought's on "senior skiing".
We're never too mature to increase our level of physical activity...
"It's our prime time. We're still very much alive and eager to ski, enjoying the mountains, the moment and ourselves. We have achieved significant success in business and our family lives. As we get older we understand our capabilities and limitations and set our own personal realistic goals. We don't measure our personal worth by speed of descent, hang back recoveries or number of vertical metres logged. We appreciate the joy of blending gravity, snow condition, weather, equipment, physical condition and emotions.
We're never too mature to increase our level of physical activity and quality of life. I personally recommend skiing as a lifetime activity to improve and maintain our quality of life."
Health benefits...
"Winter activities build coordination, strength and fitness while participating in a fun sport in fresh mountain air. There is always great camaraderie with like minded friends with whom we can make that special connection, on and off the piste.
If you are looking for the motivation to start skiing again, or just ski for the first time, let me help you count the reasons.
Physical activity has multiple beneficial effects on the heart and blood vessels.
Increased circulation transports antioxidants and nutrients to joints, muscles and bones, reducing stiffness, aches and pains.
Enhanced circulation builds a more robust immune system, increasing heart muscle mass and elasticity. The upside is fewer colds and flu, less heart disease, cancer, stroke, diabetes and lower back problems.
Skiing is an exercise you can do at and through an advanced age, especially if you suffer from nagging health problems.
When you ski, your body releases endorphins that make you feel good, relieving stress, giving you a natural energy boost. Each day you will be able to add a few extra runs, giving you better focus and coordination, both physically and mentally.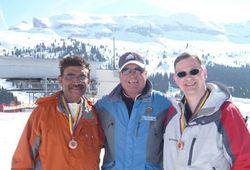 Skiing can do all the following: improve your overall fitness, create a positive emotional state, lower stress levels, reduce pain, increase flexibility and help you sleep soundly
So seniors; get active, ski for life, recreation and everyday better health. Get out of the armchair and onto the chairlift."
So whether you're 6 or 60, learning to ski is great activity to get into and with so many benefits what's not to like!
If you're a non-skiing "senior" who is eager to learn or refresh your skills, take a look at Lynne's ski clinics. With over 40 years of experience he can produce a programme specifically tailored to your needs and objectives. You might not want to be the fastest down the mountain but you could certainly develop the skills and confidence to enjoy it, whatever your age!
For more information on Lynne Stainbrook and his ski philosophy, and to book a clinic, take a look at: www.flaineskiclinic.com